New Podcast: What You Actually Need to Know About Natural Wine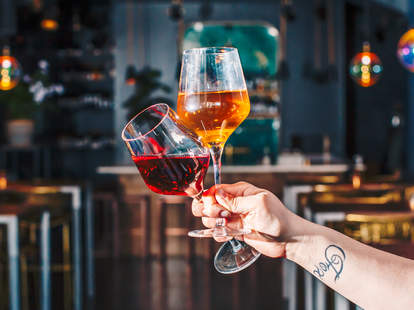 What makes "natural wine" actually natural? Where can I find the best (affordable!) natty wines? Why is natural wine absurdly popular right now, anyway?
In this episode of Thrillist's Best (and the Rest) -- listen here! -- host Wil Fulton is joined by the person who (arguably!) first introduced natural wine to the United States, wine importer Jenny Lefcourt of Jenny and Francois Selections, and Lena Mattson, General Manager and Wine Director at June in Cobble Hill, Brooklyn, to deliver a primer on all-things natural wine. Come to hear why you should be drinking natural wine, stay to learn why you should be swirling your wine clockwise. 
Sign up here for our daily Thrillist email and subscribe here for our YouTube channel to get your fix of the best in food/drink/fun.
Wil Fulton is a staff writer for Thrillist. If you told told him he could only eat one thing for the rest of his life... he'd be frightened and confused. Follow him @wilfulton.