The best bacon cheeseburger has been crowned. The most outstanding onion rings have been chosen. The longtime debate over which fast casual chain serves the best burger is finally over.
Thrillist's second-annual fast food awards, The Fasties, are here to honor the best foods from your favorite chains. Hosts David So and Tim Chantarangsu of Send Foodz are back to take us on a wild, cross country road trip to find the winner of the night's top prize, Chain of the Year—with fast food tastings, tequila-fueled trivia, and even pit stops with celebrity guests like Big Freedia along the way. They'll also present the awards in several exciting Fasties categories like Best Breakfast, Best Chicken Nuggets, Best Plant-Based Meat Menu Item, Best Value Menu, and Lifetime Achievement Award, among other super-sized honors.
Additional 2021 Fasties categories touch on almost every corner of fast food menus, including Best Onion Rings, Best Soft-Serve Ice Cream, Best Fish Sandwich, Best Bacon Cheeseburger, and even Best New Menu Item. Two special categories—Best Value Menu and Best First Responder Deal—reflect how fast food chains responded to the pandemic. Meanwhile, the Most Valuable Pickle (MVP) award honors the best and briniest cucumbers in the game, and the Lifetime Achievement Award recognizes one chain's historic contributions to not just fast food, but food in general. But for some reason (we're not sure ourselves), we didn't stop there.
For the first time, fast casual restaurants—you know, places like Five Guys, Shake Shack, and Steak 'n Shake—are finally getting a taste of the Fasties heat lamp light. All-new fast casual categories include Best Cheeseburger, Best Fried Chicken Sandwich, and Best Fries.
We acknowledge that handing out awards to corporate food chains is ridiculous, but, hey, that's kind of the point. We take fast food seriously, but we don't take ourselves too seriously. These awards are the perfect embodiment of our unmatched—potentially concerning—focus on all things served out of drive-thru windows. And, ultimately, it's just about having fun.
Now, order up your favorite bacon cheeseburger, join us for the 2021 Fasties ceremony (shown above), and check out the full list of this year's winners (shown below).
Chick-fil-A (WINNER)

Wendy's

McDonald's

Taco Bell

Jack in the Box
Chick-fil-A: Nuggets (WINNER)

McDonald's: Chicken McNuggets

Jack in the Box: Chicken Nuggets

Wendy's: Crispy Chicken Nuggets

KFC: Popcorn Nuggets
Sonic Drive-In: Hand Made Onion Rings (WINNER)

Whataburger: Onion Rings

Culver's: Onion Rings

Dairy Queen: Onion Rings

Jack in the Box: Onion Rings
Popeyes: Cajun Flounder Sandwich (WINNER)

Long John Silver's: Wild Alaska Pollock Sandwich

Whataburger: Whatacatch

Jack in the Box: Fish Sandwich

Culver's: North Atlantic Cod Filet Sandwich
Burger King: Bacon King (WINNER)

Checkers: Baconzilla!

Sonic Drive-In: SuperSONIC Bacon Double Cheeseburger

Wendy's: Baconator

Whataburger: Bacon & Cheese Whataburger
Best Plant-Based Meat Item
Quiznos: Plant Based Corned Beef (WINNER)

White Castle: Impossible Slider

Carl's Jr.: Beyond Fiery Famous Star

Del Taco: Beyond Tacos & Burritos

Carl's Jr.: Beyond Famous Star with Cheese
Best Soft Serve Ice Cream
Sonic Drive-In: Vanilla Cone (WINNER)

Dairy Queen: Vanilla Cone

McDonald's: Vanilla Cone

Burger King: Soft Serve Cone

Wendy's: Frosty
Del Taco: Del's Dollar Deals Menu (WINNER)

Taco Bell: Cravings Value Menu

Taco John's: The Valuest Menu

Wendy's: Biggie Deals Menu

Sonic Drive-In: Everyday Deals
Wendy's: Maple Bacon Chicken Croissant (WINNER)

Chick-fil-A: Kale Crunch Side

Church's Chicken: Chicken Sandwich

Taco Bell: Chicken Chipotle Melt

Culver's: Harvest Veggie Burger
Regional Chain of the Year
Whataburger (WINNER)

Bojangles

Culver's
Wendy's (WINNER)

Popeyes

KFC

Taco Bell
Best First Responder Deal
McDonald's: Thank You Meals (WINNER)
MVP (Most Valuable Pickle)
Church's Chicken: Chicken Sandwich (WINNER)
Lifetime Achievement Award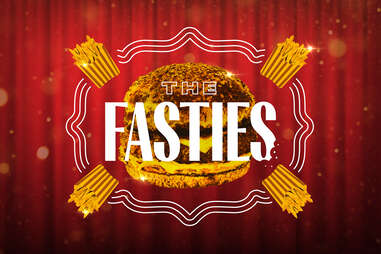 And now, the winners in the three new fast casual categories:
Best Cheeseburger (Fast Casual)
Shake Shack: ShackBurger Single (WINNER)

Five Guys: Cheeseburger

Freddy's Frozen Custard & Steakburgers: Freddy's Original with Cheese

BurgerFi: BurgerFi Cheeseburger

Smashburger: Classic Smash Burger
Best Fried Chicken Sandwich (Fast Casual)
Zaxby's: Zaxby's Signature Sandwich (WINNER)

Shake Shack: Chick'n Shack

Freddy's Frozen Custard & Steakburgers: Crispy Chicken Sandwich

Fatburger: Crispy Chicken Sandwich

Wayback Burgers: Crispy Chicken
Five Guys: Five Guys Style Fries (WINNER)

Shake Shack: Crinkle Cut Fries

Freddy's Frozen Custard & Steakburgers: Freddy's Shoestring Fries

Zaxby's: Crinkle Fries

Smashburger: Smashfries
Miss the 2020 Fasties? Here Are Last Year's Categories & Winners.
Thrillist's first-ever Fasties launched on February 19, 2020, honoring fast food stars in 16 original categories, including Best Burger, Best Fried Chicken Sandwich, Best Fries, and many more. While some categories have returned for the 2021 awards program, we decided to keep things interesting with a slate of several new categories. In other words, it's safe to say that many of the winners in 2020 are still the undisputed champions.
Here's the full list of 2020 Fasties award winners:
Best Fried Chicken Sandwich: Popeyes - Chicken Sandwich
Best Burger: Culver's - ButterBurger Cheese
Best Plant-Based Burger: White Castle - Impossible Slider
Best Fries: Arby's - Curly Fries
Best Taco: Del Taco - The Del Taco
Best Dessert: Yoshinoya - Cheesecake
Best Coffee: Culver's
Best Breakfast Sandwich: Chick-fil-A - Chicken Biscuit
Best Chicken Tenders: Raising Cane's - Chicken Fingers
Best Sauce: Culver's - Wisconsin Cheddar Cheese Sauce
Best New Menu Item of the Year: Popeyes - Chicken Sandwich
Regional Chain of the Year: Culver's
Chain of the Year: Popeyes
Menu Item of the Decade: Taco Bell - Doritos Locos Taco
Lifetime Achievement Award: Ketchup
Most Valuable Pickle (MVP): Popeyes - Chicken Sandwich
EDITORIAL
Editor: Tony Merevick
Writers: Kyler Alvord, Lee Breslouer, Danielle Dorsey, Tim Ebner, Rona Gindin, Steven Lindsey, Tony Merevick, Dustin Nelson, Lia Picard, and Megan Schaltegger
Audience Development: Kierra Hearne, Abby Maddigan, Jason Pollack, Kisai Ponce, and Dee Williams
Special Thanks: Kelly Dobkin, Pete Dombrosky, Guy Fieri, Wil Fulton, Sarah Halliday, Helen Hollyman, Meghan Kirsch, Abby Maddigan, Jason Pollack, Kisai Ponce, Liz Provencher, and Stacey Richman
CREATIVE
Creative Director: Audra V Pace
Photography Director: Drew Swantak
Sr. Photographer: Cole Saladino
Sr. Designer: Maggie Rossetti
Motion Graphics Designer: Danna Windsor
Graphic Designer: Maitane Romagosa
VIDEO
Hosts: Tim Chantarangsu and David So
Director of Photography: John Ros
Camera Operators: Chris Davidson, Mark Phillips, Jake Rasmussen, and Steven Wetrich
Camera Assistant: Ian Slakas
Associate Producers: Mia Faske
Producers: Wil Fulton and Jake Rasmussen
Editors: Brendan Day and Zachary Lapierre
Graphic Designer: Maitane Romagosa
Animator: Danna Windsor
Voice Over Artist: Brandon Richard
Senior Photographer: Cole Saladino
Production Assistants: Taylor Meyer
Production Coordinators: Kirsten Judson, Charles Ross
Teleprompter Operator: Darryn Katz
Senior Producer: Gabrielle Williott
Line Producer: Anna Frangos and Hannah Gregg
Art Director: Jonathan Stoller-Schoff
Post Production Supervisor: Daniel Byrne
Senior Director of Development & Production: Leo Fernandez
Creative Director: Audra V Pace
Head of Video: Jim D'Amico
Chief Content Officer: Meghan Kirsch