Tic Tac Goes as Bold as Tic Tac-ly Possible with New 'Berry Adventure' Flavor
Are Tic Tacs exciting again?
Nowadays you might hear the words "Tic Tac" dropped during a conversation about TikTok, but it's unlikely that the actual tiny mint brand would be a focus of conversation. After all, Tic Tacs are just tiny flavored mints that've been around for half a century, more exciting to the Necco Wafer crowd than to the new-age stuffing and gravy Candy Corn party... until today.
Tic Tac's manufacturer Ferrero announced the release of a new flavor, the "Big Berry Adventure," and while this isn't the first attempt Tic Tac has made at sugaring up its flavor lineup (the apple pie variety was an interesting toe dip into experimental candy), nor is it the first "adventure" tic tac release, it's certainly the only time the brand has sold a big adventure.
The Tic Tacs are currently rolling out nationwide and will be available at most major retailers, including Walmart, Target, and CVS.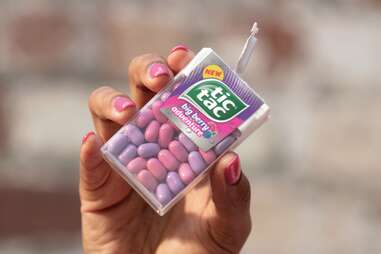 "Fruity flavors have always performed well for Tic Tac, but over the past few months we've seen an uptick in demand for this taste profile," said Felipe Riera Michelotti, a VP of Marketing at Ferrero, in a press release. "Tic Tac sales and industry reports are showing mint and gum users are seeking out other refreshing flavors beyond traditional mint."
The Big Berry flavor is a mix of raspberry and blueberry flavors, which is apparently what the people wanted. Chewing a berry-heavy smoothie to freshen up for a kiss doesn't really sound like the move to me, but neither does sucking on an orange, one of the more classic and beloved flavors. Here's my hot take: The company, and We the Community, have to stop referring to the entire family of Tic Tacs as "mints," and start calling it "candy," just like every other box of sweet something we eat in one sitting.
Sign up here for our daily Thrillist email and subscribe here for our YouTube channel to get your fix of the best in food/drink/fun.
Ruby Anderson is a News Writer at Thrillist. Send your tips to randerson@thrillist.com.