Watch a Fan Get Knocked Over by Tiger Woods' Golf Ball While Filming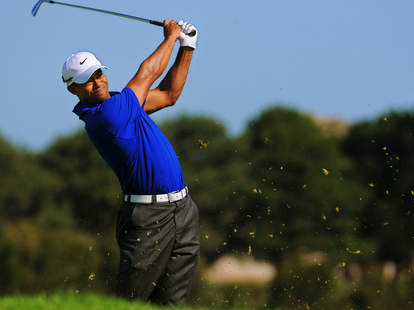 You may know Tiger Woods as that really good golfer, that guy on the cereal box, or as a notoriously bad tipper, but Colin Hauck will forever know him as that famous man who drove a golf ball into him with enough force to knock him down.
Woods was taking his second shot on the 11th hole of the British Open championship when this incredible video came into existence. Hauck was attempting to film the shot when he was struck, and while you don't ever actually see the ball, you hear the crowd getting scared and then concerned, and then you see the grass. Because the shot knocked him off his feet. It probably wasn't the most pleasant experience of Hauck's life, but he jumps back up pretty quickly, so it can't have been too bad.
And now we all have this incredible video, so it's a net win.
The same can't be said for Woods, though, who ended up with a double bogey. But Hauck got a signed glove out of it.
Sign up here for our daily Thrillist email and subscribe here for our YouTube channel to get your fix of the best in food/drink/fun.