People on TikTok Are Combining These 2 Unlikely Ingredients to Make 'Healthy Coke'
The original video has already garnered over 5 million views and counting.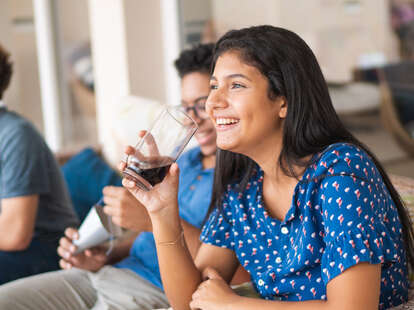 Pollyana Ventura/E+/Getty Images
Pollyana Ventura/E+/Getty Images
In classic TikTok fashion, users dreamt up an unlikely new health drink that allegedly tastes "just like Coca-Cola." The now-viral trend, which purportedly results in a better-for-you soda, is a simple two-ingredient recipe combining balsamic vinegar and sparkling water.
On Monday, TikToker Amanda Jones seemingly stirred up the trend after sharing her pilates instructor's concoction, which does look strikingly similar to a classic Coke. The video has garnered over 5.6 million views and counting, with over 500,000 likes.
"I swear to God it tastes like a Coke and it's healthy and good for you," Jones said in the video. "You guys should go try it out."
While some, like Amanda, have touted the healthy soda alternative as delicious, the comment section is brimming with skeptics. "Step 1: delusion," one user wrote, with another chiming in, "Zero chance that tastes like [C]oke." Others merely commented, "JAIL!"
"Homegirl just got at least 50 people to drink balsamic vinegar with ice lol," @sacredfem said. Another added, "This needs to affect your credit score somehow." Frankly, we agree.
The recipe even made it to daytime television, with Today hosts Hoda Kotb and Jenna Bush Hager testing out the concoction for a segment. "Ugh, it tastes like vinegar," Kotb said, with Bush Hager agreeing, "This is not a Coke!"