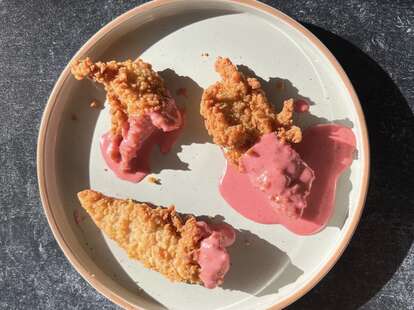 Courtesy of Dave's Gourmet
Miami-based creator Chef Pii went viral on TikTok last year for her Pink Sauce, a "sweet, spicy, and tangy" concoction that reportedly tastes just as good as it looks. Now, the social media star is teaming up with Dave's Gourmet to bring the condiment to fans nationwide, PEOPLE reports.
While Chef Pii previously sold the Pink Sauce online (for $20 a pop, we might add), Dave's is helping the creator expand her reach across the US. Beginning this month, Pii is rolling out the rose-colored condiment at 4,000 Walmart stores (and online!) as its exclusive retailer through July 2023.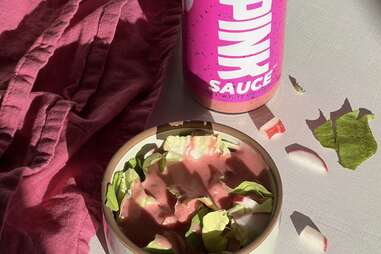 "Everything is still kind of surreal. But it's very real. We've been working very hard for the Pink Sauce to come out so soon in 4,300 stores. I mean, it's crazy," Pii told the outlet. "More than anything, I have a smile on my face every day. I wake up and I do what I have to do to better myself as a person and a businesswoman because there's somebody else watching me, and I'm giving someone else hope. That's the biggest gift."
The Pink Sauce is now officially being manufactured under FDA guidelines, and the sauce is both vegan and gluten-free.
"A lack of commercial food production knowledge led to significant obstacles," Dave's Gourmet said in the partnership announcement. "[We] discovered this situation soon after Pink Sauce went viral on social media and decided to offer their help and expertise."
How much will that expertise set you back? A 13-ounce bottle of the sauce is now being sold for $9.99 on the Dave's Gourmet website, though it's listed at a slightly cheaper $7.78 per bottle on Walmart's website.