Apple's CEO Explains That Wires Made You Lose Your Headphones, Not Forgetfulness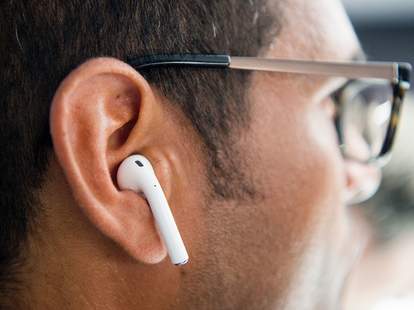 When Apple revealed its wireless Airpod headphones, on sale now, the internet banged its collective head against a wall. So many questions surrounded the dainty, wireless earbuds -- including how to keep them from disappearing in your pockets -- that Apple CEO Tim Cook had to go on Good Morning America to defend his company's product on Wednesday.
Cook told Robin Roberts all about the iPhone 7 -- waxing about its "killer" features on more than one occasion -- but then offered a really simple, but still pretty logical defense of his Airpods. Check out the interview below:
To summarize Cook's major defense here, he's basically saying that headphone wires have always been the devil. They weigh down your earbuds, causing them to wiggle from your ears, disrupting the pleasure of listening to Spotify or hearing your best friend's gossip.
Or, as Cook said himself: "I've been wearing them [AirPods] for a while. And because they don't have wires on them… The wires tend to help the earbud to fall out, because it applies weight on those. By snipping the wires, I have never personally had one [AirPod] fall out."
Eureka! Apple wins again!
Roberts then tested the Airpods out, and seemed pretty confident that they'd stay lodged in her ears, even after vigorous head bobbing:
The iPhone 7 comes out on Friday -- and you'll likely be finding errant AirPod headphones beginning some time next week.
Sign up here for our daily Thrillist email, and get your fix of the best in food/drink/fun.
Sam Blum is a Staff Writer at Thrillist covering News. He will not spend $159 on a pair of wireless headphones because he'd probably lose them. He's on Twitter @Blumnessmonster.