Tim Hortons Is Unleashing Giant Snowball Donuts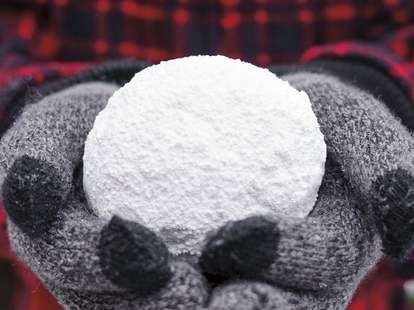 Nothing activates the secret part of your heart that actually enjoys winter quite like a fresh blanket of snow. It's hard not to recognize the falling flakes as beautiful, if not exciting. And while much of America hasn't yet had a first real snowfall of the season, Tim Hortons' latest treat might just inspire a snowball fight.
The Canadian coffee and donut chain just unveiled new Snowbits, a supersized (no really, they're three times the size) version of their beloved powdered Timbits donut holes. The gigantic balls of fried dough are "covered in powdered sugar to look like snowballs."
Snowbits come in packs of two, and Tim Hortons is encouraging you to have a little fun with your food. No, seriously. According to the company, the new addition to the menu "can be used just like snowballs to make a snowman [or be thrown] in a friendly Snowbit fight." But let's be real -- the only place these bad boys are going is straight in your mouth.
Tim Hortons is getting in the spirit of giving as the holidays approach, offering freebies to the first 12 people to inquire about their new Snowbits. That's right, if you mention these powdered balls of dough and sugar at a participating Tim Hortons, you'll walk away with a free two-pack and, well, everyone knows the only thing better than donuts is free donuts.
"We are celebrating the return of the holidays and thanking our guests this holiday season by giving away free Snowbits at select stores on December 1," said Shawn Thompson, president of Tim Hortons United States. "We encourage guests to get in the holiday spirit by sharing a Snowbit with a friend alongside a holiday beverage in our festive winter-themed cups."
Snowbits aren't the only wintery treats landing on Tim Hortons' menu this holiday season. The caffeine supplier is introducing a holiday-inspired hot chocolate line that includes several flavors fit for sipping while watching the yule log burn, or whatever else you're doing really. The lineup includes peppermint, white hot chocolate, salted caramel, and other not-specified Hershey's chocolate flavors. Naturally, they've got something for anyone chasing a festive caffeine buzz too. Tim Hortons will also be offering a Peppermint Mocha Iced Capp or Latte all season long.
The Snowbit fight commences at participating Tim Hortons locations December 1.
Sign up here for our daily Thrillist email and subscribe here for our YouTube channel to get your fix of the best in food/drink/fun.

Caitlyn Hitt is Daria IRL. Don't take our word for it -- find her on Twitter @nyltiaccc.