Tinder's Making Swipes Around the World Free, So You Can Find New Friends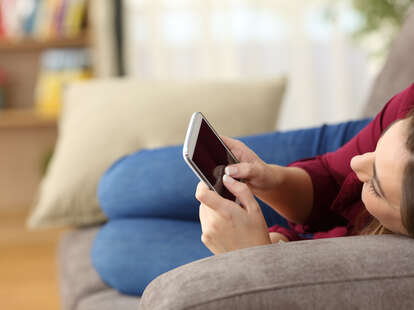 Everybody needs somebody while they isolate in their apartments, unable to distract themselves from loneliness via reckless nights at the club and frenzied stair climber gym workouts. And now Tinder is making it easier than ever to find that necessary someone, by allowing users to swipe right on the entire world for free.
Tinder's Passport feature, which is currently only available to Tinder Plus and Gold subscribers who pay $10-15 a month, will be free from next week through April 30. It allows users to extend their mile range all the way across planet Earth, by searching individual cities or dropping pins that could land anywhere in your chosen geographical region. The freed-up feature is an opportunity to shoot arrows of undying love across the Atlantic... or at least find someone to play Trivia Crack with.
According to The Verge, CEO Shar Dubey of Match Group told employees that the price drop will give users "the technology to share, learn and listen to those that are experiencing this same situation in different geographies during an unprecedented period of isolation."
So let's make the most of this time, and hopefully fall in love with someone we can't feasibly be with, but who has a delightful and interesting story to share.
Sign up here for our daily Thrillist email and subscribe here for our YouTube channel to get your fix of the best in food/drink/fun.