Taste-Test: We Ate Tiny Toast, General Mills' Newest Cereal
Unlike cheese sauce-covered bacon burgers and crazy new Reese's candies, cereal admittedly isn't the sexiest type of food for a taste-test. But when General Mills announced last week that it's releasing an all-new cereal for the first time in more than 15 years, we knew we had to try a bowl. OK, maybe a few bowls.
Tiny Toast comes in two flavors, strawberry and blueberry, and General Mills said it started rolling out to cereal aisles nationwide last week. The cereal is made up of little bread-shaped pieces of "toast" that come speckled with what the company claims are tiny bits of real strawberries and blueberries instead of artificial flavors and colors.
Sure, all of that is great, but does it taste good? We were pleasantly surprised.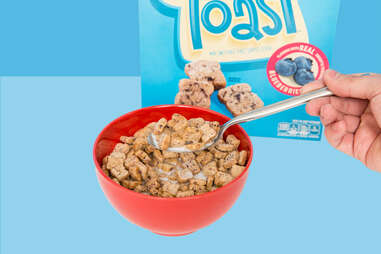 Eating it
At first glance, it's hard not to associate Tiny Toast with Cinnamon Toast Crunch, thanks to their similar names. After opening a box and seeing them up close in real life, it turns out they're actually almost identical in appearance to yet another General Mills cereal, French Toast Crunch, except for all the little pieces of fruit.
Obviously, the main attraction here is the fruit and, thankfully, it doesn't disappoint. A bowl of the either flavor gives off a powerful fruity smell similar to that of a fruit roll-up. Both flavors actually taste like the fruit they're labeled as -- at least as much as a cereal can taste like fruit. A significant amount of the fruit pieces come off the toast-shaped pieces to lightly sweeten your milk, which is pretty great (although you'll find a lot at the bottom of the bowl).
However, we found that one flavor is slightly better and even more authentic than the other: blueberry. It's not too sweet, slightly tart, and gets closer to hitting that "real" fruit flavor than the strawberry version does. And yet, they bizarrely remind us of Cap'n Crunch's Crunch Berries. Maybe all of this cereal is getting to our heads. ¯\_(ツ)_/¯
The verdict
Considering it's the first new cereal from General Mills in more than a decade, Tiny Toast doesn't disappoint. It's fruity, flavorful, and not too sweet. It even has a nice crunchy-to-soggy ratio almost immediately after you add milk. It'll make a helluva midnight snack.
The exclusion of ingredients like High Fructose Corn Syrup, artificial colors, and artificial flavors is pretty great, too. That is, unless you're really into that kind of stuff. But is it enough to get people to eat more cereal? That remains to be seen.
The bottom line: If you're tired of force-feeding yourself the same damn honey-nut-frosted whatever cereal every morning, you've got a new option that is solidly good.
Sign up here for our daily Thrillist email, and get your fix of the best in food/drink/fun.
Tony Merevick is Cities News Editor at Thrillist and can't remember the last time he ate as much cereal as he did in this one sitting. Send news tips to news@thrillist.com and follow him on Twitter @tonymerevick.