Tiny Toast Is General Mills' First All-New Cereal in More Than a Decade
Courtesy of General Mills
At this point in your life, there's a good chance you fit into one of two categories when it comes to eating cereal: those who think the classic breakfast food is increasingly "meh," and those who eat daily bowls of the stuff with the same level of fervor you had as a kid. And although recent reports suggest you probably fall in the former group, General Mills is betting on a cereal rebound with its first all-new cereal brand in well over a decade.
The new cereal is called Tiny Toast, and boxes of the sweet milk accessories will start hitting a crowded cereal aisle near you as soon as this week, according to a press release. If you don't count the slew of new flavors and variations of iconic General Mills cereals like Cheerios and Chex that have come out over the years, it's the first new cereal brand the company has launched in more than 15 years. The multinational food giant also claims it's one of the few cereals out there that's flavored with "real fruit" and other "natural flavors."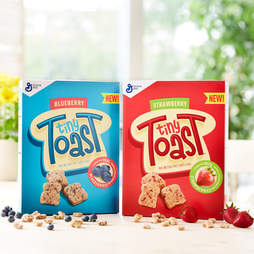 Courtesy of General Mills
While the name might remind you of General Mills' beloved Cinnamon Toast Crunch cereal, it looks like Tiny Toast actually falls into the fruity cereal category, coming in two flavors: strawberry and blueberry. As the name suggests (and as you can see in the photos above), the cereal is made up of little bread-shaped pieces of "toast" that are speckled with tiny pieces of strawberry or blueberry. Also worth noting: the cereal doesn't contain any artificial flavors, artificial colors, or high fructose corn syrup. But, more importantly, will it change the color of your milk? 
That, and whether a new cereal brand is exciting enough to get people to buy and eat more cereal, remains to be seen.
Sign up here for our daily Thrillist email, and get your fix of the best in food/drink/fun.
Tony Merevick is Cities News Editor at Thrillist and always enjoys a nice bowl of cereal. Send news tips to news@thrillist.com and follow him on Twitter @tonymerevick.