This Restaurant Will Pay You $438 to Devour This Huge Ramen Bowl in Under 20 Minutes
If competitive eating contests were like a Super Mario game, this monstrous bowl of ramen would be Bowser. The Umakara Ramen Hyouri restaurant in Tokyo is offering $438 to anyone daring enough to rifle this mountain of goodness down their gullet in under 20 minutes. If that's too quick, the restaurant will compensate you $236 for eating the bowl in under 30 minutes, because, hey, you'd still be a champion.
Called the "mega serving" challenge, the towering bowl of ramen is likely to make culinary adventurers lose their lunch, so the restaurant is charging contestants an $88 penalty if they get too full and puke. Consider it a service fee for cleaning up your sick.
Just to put this grand monument of noodles and pork into perspective, take a look at it from a variety of angles, courtesy of the Japanese site, My Navi: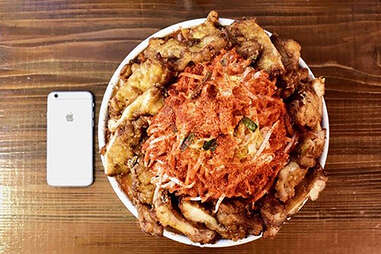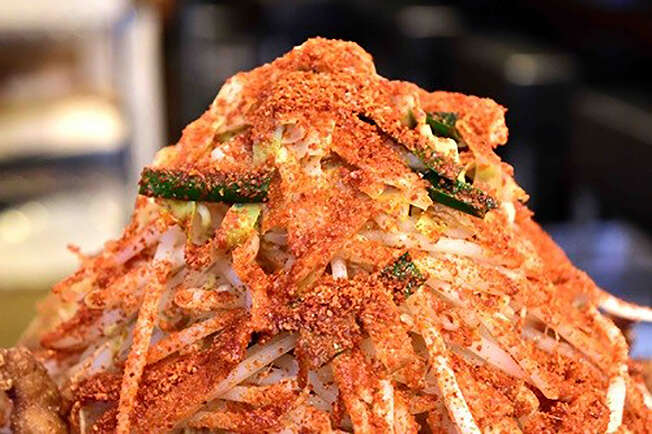 No, your eyes were not deceived. According to Kotaku, the dish contains "four servings of ramen noodles, 8.8 pounds of bean sprouts, and nearly 24 ounces of broth." It's also sprinkled with a liberal dose entirely coated in chili powder, to punish the foolhardy and arrogant knaves who attempt to eat this beast.
So if you're ever charting a path of brave, brave gluttony, and find yourself in Tokyo, check out Umakara Ramen Hyouri. If you finish this titanic soup dish in its entirety, you'll find yourself among the legendary company of the nine warriors who've also completed the task. Then you'll likely hibernate for 1,000 winters, and never speak the word "ramen" again.
Sign up here for our daily Thrillist email, and get your fix of the best in food/drink/fun.