The Top Google Questions About All 50 States Are Pretty Embarrassing
Most of the US has only a vague understanding of the rest of the country -- hence the absurdity that is the 2016 presidential election. But when Americans want to understand why their fellow states are the way they are, they turn to one place: Bing Google.
That in itself isn't interesting -- but when you see Google autocompletes for what people ask about other states and regions, you get a sense of just how negative geographic stereotypes really are. Redditor Salem-Witch compiled a map of the top three autocomplete queries for the phrase, "Why is [state] so...?" for all 50 states, Canada, Mexico, and a bunch of regions around the US, and it turned up some interesting questions -- and a whole lot of inanity.
For example, the masses want to know why Texas is so big, hot, and cheap -- it's the Domino's pizza of states -- or why the Midwest is boring, humid, and flat. ¯\_(ツ)_/¯ The humid thing came up time and again -- easily the most commonly asked question throughout the country. Apparently, nobody paid attention during science class.
If you're viewing on mobile, these maps are gonna be too small to view. But take a gander, and then read through the list, alphabetically by state, and then by region.
Alabama
Good, poor, hot
Alaska
Expensive, cold, big
Arizona
Hot, racist, conservative
Arkansas
Humid, obese, hot
California
Expensive, hot, dry
Colorado
Fit, cold, healthy
Connecticut
Rich, boring, humid
Delaware
Small, humid, Democratic
Florida
Weird, bad, hot
Georgia
Hot, racist, poor
Hawaii
Expensive, Democratic, diverse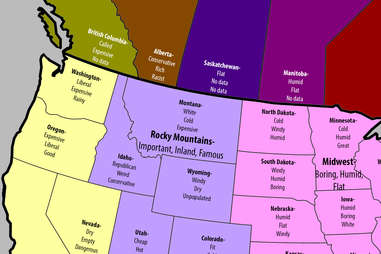 Idaho
Republican, weird, conservative
Illinois
Broke, flat, Democratic
Indiana
Republican, humid, racist
Iowa
Humid, boring, white
Kansas
Hot, windy, boring
Kentucky
Poor, humid, bad at football
Louisiana
Haunted, hot, different
Maine
White, poor, cold
Maryland
Democratic, ghetto, humid
Massachusetts
Expensive, liberal, Democratic
Michigan
Sandy, humid, hot
Minnesota
Cold, humid, great
Mississippi
Poor, conservative, fat
Missouri
Humid, hot, Republican
Montana
White, cold, expensive
Nebraska
Humid, flat, windy
Nevada
Dry, empty, dangerous
New Hampshire
Conservative, boring, important
New Jersey
Expensive, trashy, bad
New Mexico
Poor, liberal, weird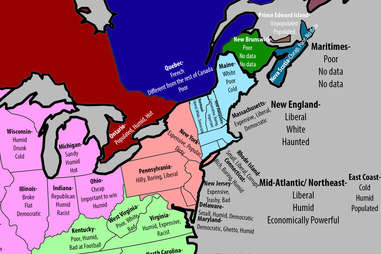 New York
Expensive, popular, dirty
North Carolina
Humid, racist, stupid
North Dakota
Cold, windy, humid
Ohio
Cheap, important to win, humid
Oklahoma
Conservative, Republican, boring
Oregon
Expensive, liberal, good
Pennsylvania
Hilly, boring, liberal
Rhode Island
Small, liberal, corrupt
South Carolina
Important, hot, poor
South Dakota
Windy, humid, boring
Tennessee
Humid, hot, Republican
Texas
Big, hot, cheap
Utah
Cheap, hot, religious
Vermont
Liberal, white, Democratic
Virginia
Humid, expensive, racist
Washington
Liberal, expensive, rainy
West Virginia
Poor, white, bad
Wisconsin
Humid, drunk, cold
Wyoming
Windy, dry, unpopulated
East Coast
Cold, humid, populated
Mid-Atlantic/Northeast
Liberal, humid, economically powerful
Midwest
Boring, humid, flat
New England
Liberal, white, haunted
West Coast
Dry, liberal, expensive
The Rocky Mountains
Important, inland, famous
The South
Poor, religious, humid
The Southwest
Dry, hot, no data
Whew. This obviously doesn't include all the Canadian provinces and territories, nor does it include Mexico. But you can look at the maps for yourself -- this article's already turned into a ton of list formatting. Plus, let's be real: you probably only really care about US states and regions.
Sign up here for our daily Thrillist email, and get your fix of the best in food/drink/fun.
Ryan Craggs is Thrillist's Senior News Editor. He spent way too long formatting this article. Follow him @ryanrcraggs.