These Are the 15 Best Tech Companies to Work for in 2018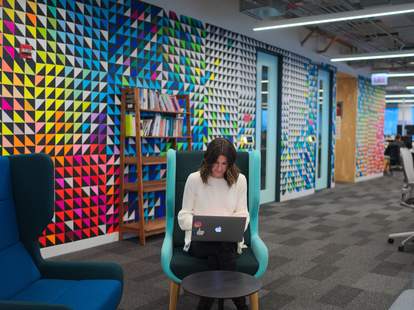 It's a truism by now that if you want to make money you should start working in tech. You would do well to remember, however, that making money isn't everything. Making money and having a good experience while doing it is pretty much everything, though.
With this in mind, it was nice of Indeed's data scientists to look over 18 million employer reviews and tell us the top 15 best tech companies to work for this year. These companies were recognized for qualities like "generous compensation packages, valuable stock options, extraordinary campuses, mind-blowing perks (rooftop dog parks, anyone?) and -- of course -- the excitement of working on cutting edge products." All of that sounds pretty good to us, so check out the list and develop some marketable skills.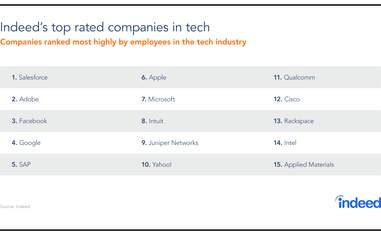 Indeed
As you can see, the cloud computing company Salesforce took the No. 1 spot. It was also called best overall company to work for in 2017 and 2016, so it must be doing something right -- for instance, its culture of philanthropy (paid volunteer time) and a commitment to customer loyalty. Also the CEO's dog has the official title of Chief Love Officer. Salesforce also ranks the highest of tech companies in management, pay & benefits, job security, and advancement. And it ranked second in culture. That's not to say it'll be easy working there, but if you're up for working hard, there's no better place to be.
In second is Adobe, which is a little older than some of these companies but gets a shoutout for having the best work-life balance, plus "great benefits, open communication with upper management and the opportunity to work on innovative products." Facebook (which also took the No. 1 spot on Glassdoor's Employee's Choice awards) came in third but took the top spot for culture, which isn't surprising when you consider its Frank Gehry-designed campus.
Google came in fourth for "ideal combination of doing challenging work in a fun, relaxed environment." And for literally being Google. In fifth is SAP, which is "an enterprise application software company that creates solutions for managing business operations." This may not sound as exciting as Google, but it has a great work-life balance and great job security and advancement opportunities, plus a culture that supports volunteer work and working remotely.
To be honest, you'd be lucky to work at any of these places, so maybe apply to all of them right now. And also probably learn to do some tech stuff.
Sign up here for our daily Thrillist email and subscribe here for our YouTube channel to get your fix of the best in food/drink/fun.


James Chrisman is a News Writer at Thrillist who cannot do tech stuff. Send news tips to news@thrillist.com and follow him on Twitter @james_chrisman2.