NASA Maps Predict Where the Skies Will Be Clearest for the Eclipse
NASA
NASA
When the sun and the moon perfectly align on August 21, millions of Americans will witness the stunning midday darkness of a total solar eclipse unlike any the country has seen in 99 years. And while those watching the historic celestial event along the path of totality — from Oregon to South Carolina — will be treated to the best views, everyone's experience will depend on the weather; specifically, how clear the skies will be during those few fateful moments.
So, when it comes to the best places for viewing this year's event, NASA's Earth Observatory has done all the legwork for you: The agency compiled two maps that predict which states will have the clearest skies on the day of the eclipse, using satellite data collected on the exact date between 2000 and 2016. The eclipse's path of totality runs diagonally from the northerly reaches of Salem, Oregon to Charleston, South Carolina, meaning much of middle America is slated to enjoy the spectacle.
However, the West Coast looks to be quite the hot spot again, if the map proves to be correct. You'll notice that a darker shade of blue indicates which regions are more likely to have clear skies for ideal eclipse viewing:
The second visualization "highlights the proportion of the Sun that will be eclipsed along with the likelihood of cloudiness." Again, a darker shade of blue indicates a higher degree of visibility and less clouds, while larger symbols predominantly fall along the path of totality: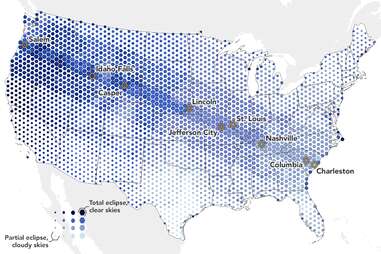 Of course, this research indicates a hypothesis, and not an entirely predictive model of what the weather might be like across the country on August 21. After all, clouds might proliferate in certain parts of the country during the eclipse, even along the path of totality.
Nonetheless, this provides a decent blueprint of where to watch the eclipse, and just how spectacular it might be.
Wanna see the solar eclipse for yourself? Check out Thrillist's state-by-state watch guides to the best viewing spots in Georgia, Idaho, Illinois, Kansas, Kentucky, Missouri, Nebraska, North Carolina, Oregon, South Carolina, Tennessee and Wyoming.
Sign up here for our daily Thrillist email and subscribe here for our YouTube channel to get your fix of the best in food/drink/fun.

Sam Blum is a News Staff Writer for Thrillist. He's also a martial arts and music nerd who appreciates a fine sandwich and cute dogs. Find his clips in The Guardian, Rolling Stone, The A.V. Club and Esquire. He's on Twitter @Blumnessmonster.