Here's How to Find the Exact Time to Watch the Eclipse Wherever You Are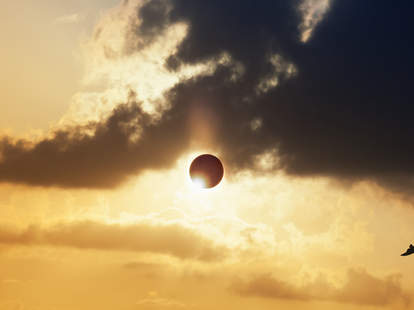 At this point, you either have plans to spend your life savings traveling for a front row seat somewhere along the total solar eclipse's path of totality, or to settle for watching the markedly less life-changing -- but still stunning -- partial eclipse from your area. Either way, you have no excuse to miss the historic event, so it would behoove you to figure out exactly when to put on your special eclipse glasses and look up for it today. Thankfully, there are helpful tools and maps for that.
Like with any celestial event -- from meteor showers to the northern lights -- you'll have to be in the right place at the right time on August 21 in order to witness the wonder unfold. While everyone in the United States will have a chance to see at least a partial eclipse (weather permitting), the best time to watch it and how long it'll last varies from location to location. Here's how to find out when it'll happen in your area:
NASA's interactive eclipse map
To help ease all the confusion (science is hard), the space agency has launched
an interactive map
that will tell you exactly when the partial eclipse will begin, when it will be at its peak, and when it will end at any location. All you have to do is open the map, click on your location to add a marker there, and a bubble would pop up showing precisely when you should go outside and witness the phenomenon from your backyard, fire escape, drive way, what have you. The only challenge here is converting the prescribed eclipse viewing times from UT time (Universal Time) to your local time, but a quick Google search will do the job.
Enter your zip code
Another
interactive eclipse map
-- this time from the
Courier-Journal
-- is even easier to use. Just enter your zip code on the map page and it'll spit out the times when you can watch the eclipse as well as the percentage of the sun that will appeared covered by the moon from your location. However, it looks like the times are displayed in EDT, so you might have to do another quick conversion.
If you're looking for an even better idea of what your view of the eclipse will be like, there's also an eclipse view simulator that illustrates what you can expect. Plug in your zip code, then hit the play button, and you'll get a helpful sneak peek at how the sun and the moon will move across the sky.
Maps and charts
Perhaps the simplest ways to figure out when you need to direct your gaze skyward are via eclipse-geared maps and charts. A map (show below) from
greatamericaneclipse.com
puts timestamps on the path of the eclipse, while a chart from NASA (also shown below) details the eclipse viewing times at cities in several time zones across the country.
Of course, you can always just wait until you see a bunch of people rushing outside and flooding the streets to watch the once-in-a-lifetime wonder. If you're lucky enough to be within the path of totality, just keep a look out for the ultra-rare "shadow snakes."
Sign up here for our daily Thrillist email and subscribe here for our YouTube channel to get your fix of the best in food/drink/fun.

Tony Merevick is Senior News Editor at Thrillist and can't wait to see everyone in NYC flood into the streets to watch the eclipse on Monday afternoon. Send news tips to news@thrillist.com and follow him on Twitter @tonymerevick.