This Map Shows How Long You'll Have to Drive to See the Total Solar Eclipse
From staying up to see a meteor shower to traveling for a glimpse of the northern lights, witnessing nature's most beautiful spectacles often involves being in the right place at the right time. Thankfully, someone's created a helpful map that will show you how long you'll have to drive in order to experience a rare astronomical event visible across the United States this year: the total solar eclipse.
On Monday, August 21, the total eclipse of the Sun will be visible all the way across the continental US, but only along a fairly narrow path -- the ominous-sounding "path of totality" -- extending over a dozen states from Oregon to South Carolina. That's where you need to be if you want to truly experience the solar eclipse, or when the moon blocks the sun and causes a few minutes of night-like darkness in the middle of the day. The map (shown in full below) from GreatAmericanEclipse.com will show you approximately how long it'll take for you to drive to the nearest point along the path.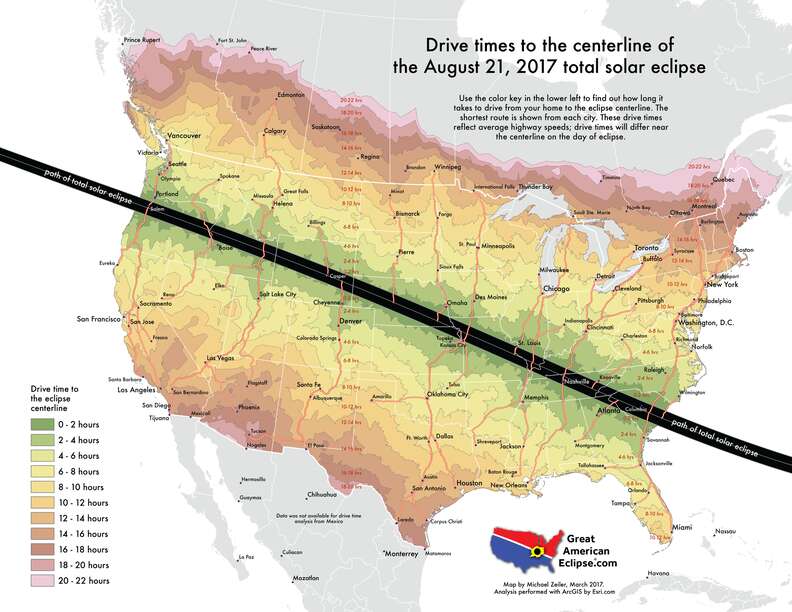 While the site indicates that several million Americans will be able to reach the path by driving four hours or less, it looks like millions of others will have to drive much longer. If you live in NYC, for example, you'll likely have to drive for about 10 to 12 hours, while folks in southern parts of California and Texas will have to drive for even longer than that. The driving time estimates are based on average highway speeds, although traffic on the day of the eclipse could end up slowing things down a bit. The point, though, is to give you a good idea of how long it'll take you to get there so you can plan accordingly.
Speaking of planning accordingly, GreatAmericanEclipse.com also has several additional maps highlighting the best places to view the eclipse (you're in luck, Carbondale, Illinois!), breakdowns for each state along the path, and even a map showing the local time when the eclipse will take place in the sky in several spots across the country (shown below).
All said, there's more than enough info out there to help you plan where and when to see the rare phenomenon, so don't screw up and miss it. If you do, you'll have to wait until 2024 for the next one.
Sign up here for our daily Thrillist email, and get your fix of the best in food/drink/fun.

Tony Merevick is Cities News Editor at Thrillist and thinks it's safe to say he won't be driving the 10 hours or so from NYC to see the eclipse. Send news tips to news@thrillist.com and follow him on Twitter @tonymerevick.