Trader Joe's Now Has a Four-Pack of Canned Wine for $4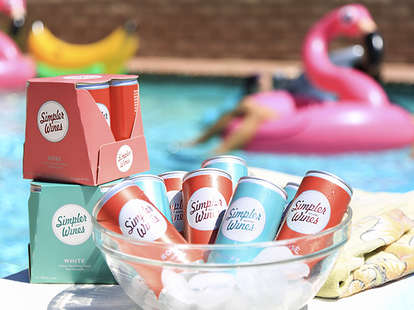 In the proud tradition of Two Buck Chuck -- more accurately $3-4 Charles now -- Trader Joe's has launched Simpler Wines. The line features sparkling white and rosé wines in a four-pack of cans.
The cabs if vino frizzante are sharp-looking and come at the high-five worthy price of $3.99. Aside from the price, the great victory here is that bringing cans to the beach is always better than a bottle. The can is its own cup and there's no need to dig to the bottom of the beach bag, praying you remembered a corkscrew or that someone in your entourage is an amateur MacGyver.
The grocer says the white "has notes of juicy honeydew and fresh cut herbs." Meanwhile, the rosé has "elegant, mineral notes and red fruit flavors." Also, the four-pack is just four bucks which is undeniably the true selling point here.
When the wines were first released, they were only available at New York's Union Square location, according to Tasting Table. However, many people are reporting they have started to find Simpler Wines in Trader Joe's across the country. If your local doesn't have them yet, they may be on the way. Summer is improved.
Sign up here for our daily Thrillist email, and get your fix of the best in food/drink/fun.
Dustin Nelson is a News Writer with Thrillist. He holds a Guinness World Record but has never met the fingernail lady. Follow him @dlukenelson.