Trader Joe's Is Now Selling Lime-Sized, Mini Avocados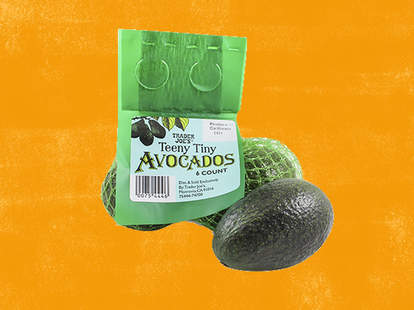 As much as we avocado lovers may feel emboldened to finish a whole Hass in one sitting, that is generally way too much 'cado to use in a single meal. Luckily, the braintrust at Trader Joe's seems to have heard our cries, because the grocery chain just started selling single-serving versions of the fleshy fruit to spare us the hassle of wrapping up leftovers that will inevitably go bad before you can use them. Behold, Teeny Tiny Avocados.
Packaged in bags of six, Teeny Tinies are just miniature versions of your traditional Hass avocado, each only slightly larger than a lime and containing roughly the same amount of pulp you'd get from one half of a full-sized. They are, for those inclined to assign such characteristics to edible items, adorable. Fortunately, their smaller package does not come with a compromise on flavor or texture -- they taste almost identical to their larger counterparts. Even better, a mesh bag of six will set you back just $2.69, whereas a whole-sized single avocado can oftentimes cost upwards of $1.50 apiece.
The only downside? They're probably a little too small to house your next latte.
h/tGrub Street
Sign up here for our daily Thrillist email and subscribe here for our YouTube channel to get your fix of the best in food/drink/fun.