Get Ready: Travel Deal Tuesday Is Your Black Friday for Cheap Flights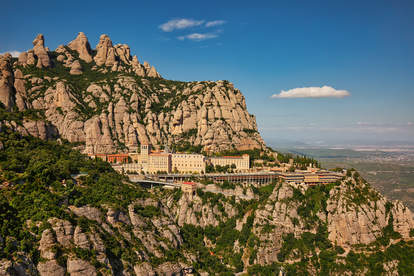 Ferocious moms and their counterparts are elbowing their way through a local Target in knee pads and bike helmets. There are no more food processors. Someone just lost a limb in the Nerf gun aisle. No one is safe. This is Black Friday.
Now, imagine a world where you forego the trip to Target. Instead, you're at home, safe and knee pad-free, booking a plane ticket to Jamaica, where you will require neither a food processor, nor a Nerf gun. This is the beauty of Travel Deal Tuesday. 
According to budget travel app, Hopper, November 27 -- the Tuesday after Thanksgiving -- is when to expect a major annual dip in plane ticket prices.Most folks have already planned their winter travel before Turkey Day, so this is a bit of a dry spell for the airline market. For us, that's a good thing: The brief window serves as its own Black Friday-meets-Cyber Monday for discounted flights. Last year, the popular app sent out 1.1 million price-cut notifications on Travel Deal Tuesday, where 20% of the domestic and international routes they typically vet for potential deals were offering sales. That's a massive 43% more discounts than the app typically locates -- and the numbers seem to look better with each passing November.
2018 is expected to offer the widest range of deals yet, and according to a Hopperpress release, the discounts will be big. As of right now, the app is highlighting tickets to Barcelona at 36% off, London for 41% off, Hong Kong for 32% off, and Turks & Caicos at 42% off. That's no small price cut. 
Throughout the course of Travel Deal Tuesday, you're welcome to use any number of flight aggregators to track down tickets (think Kayak, SkyScanner, Scott's Cheap Flights), but naturally, Hopper recommends using their app. After inputting your preferences for destination and month of travel, the program's "Flex Watch" feature will scour the web in search of discounts that meet your needs. Apparently, they're known to compile options around 40% cheaper than your standard price. It's basically like having a personal shopper for Black Friday, which we sincerely hope is not a service that exists. 
Perhaps this is a good year to retire from the quasi-lethal extreme sport that is discount shopping, and devote your funds, instead, to a trip. We assure you, no one will trample you in the process.
Sign up here for our daily Thrillist email and subscribe here for our YouTube channel to get your fix of the best in food/drink/fun.