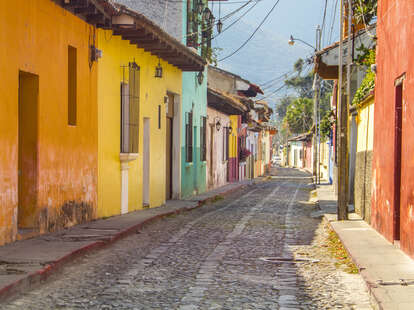 Antigua, Guatemala

| Kryssia Campos/Moment/Getty Images
Antigua, Guatemala

| Kryssia Campos/Moment/Getty Images
With this upcoming summer expected to be the busiest travel season yet, eager travelers around the world are already stressing about their finances, as more demand usually equals price increases. But this doesn't mean that you can't travel overseas without breaking the bank.
To help you plan out your awesome vacations, Airbnb has analyzed its most wishlisted properties around the world, and it has then filtered them for those listed for under $100 per night. In the end, it came up with a vast selection of gorgeous properties in every continent, and it has even put together suggestions for four different types of travelers.
For example, one list is targeted toward travelers looking to take in some of the most iconic breathtaking views our planet has to offer, while another one is all about aesthetics, culture, and good old fun—namely fashion and museums, street food, and nightlife. Another category is fully tailored to Gen Zers, and it brings travelers on a worldwide trip in name of adventure. Lastly, for the most old-fashioned travelers that don't want to miss out on the main bits, one category is set to bring you to the discovery of ancient cities and capitals and their authentic colors.
Top trending summer 2023 destinations with a view:
Winnipeg, Canada
Saint-Gervais-les-Bains, France
Cape Town, South Africa
Jung-gu, Seoul, South Korea
Auckland, New Zealand
Top trending summer 2023 urban destinations for culture-hungry travelers:
Cali, Colombia
Milan, Italy
Bangkok, Thailand
Suginami, Tokyo, Japan
Wellington, New Zealand
Top trending summer 2023 destinations for adventure-loving Gen Z travelers:
Marrakech-Safi, Morocco
Palermo, Italy
Amphoe Kathu, Phuket, Thailand
Higashiyama, Kyoto, Japan
Victoria, Australia
Top trending summer 2023 destinations for empty nesters and retirement-moons:
Antigua, Guatemala
Buenos Aires, Argentina
Belfast, Northern Ireland
Porto, Portugal
Kuala Lumpur, Malaysia

Each ranking also came with budget-friendly suggested Airbnb bookings for each destination. To take a look at those and to learn additional details, you can check out Airbnb's complete report right here.