This Map Shows Every Country's Most Popular Tourist Attraction
Every country is home to some marvels, but the sheer scale of what's out there doesn't come into full focus until feast your eyes upon this map of Trip Advisor's most popular tourist destinations. Using the top-rated "Thing to Do" in literally every country in the world, the site curated one of the most exhaustive travel itineraries you can possibly imagine, citing the experiences of people who have actually been to these far-flung places.
From Brazil's Igauzu Falls to Sierra Leone's River Number Two Beach and the Sagrada Familila in Spain, you're left with no excuses but to plan the ultimate adventure. The map is also pretty illuminating of the lesser-tread wonders spanning the globe: For starters, did you know there's a "Door to Hell" in Turkmenistan that looks like a literal passageway to the underworld? You probably did not.
Some of the most popular sites make sense -- Central Park in New York City is a weird one for the United States, considering majestic landmarks like the Grand Canyon and a glut of other places that comprise one of the biggest countries on Earth -- but others are strange. England's best tourist attraction is the Harry Potter studio tour, and not St. Paul's Cathedral, Big Ben or Stonehenge. Thanks J.K. Rowling!
In total, the map comprises 76 natural attractions, 54 historic attractions, 38 generic tourist attractions and 29 religious attractions, which gives 197 reasons to see the world.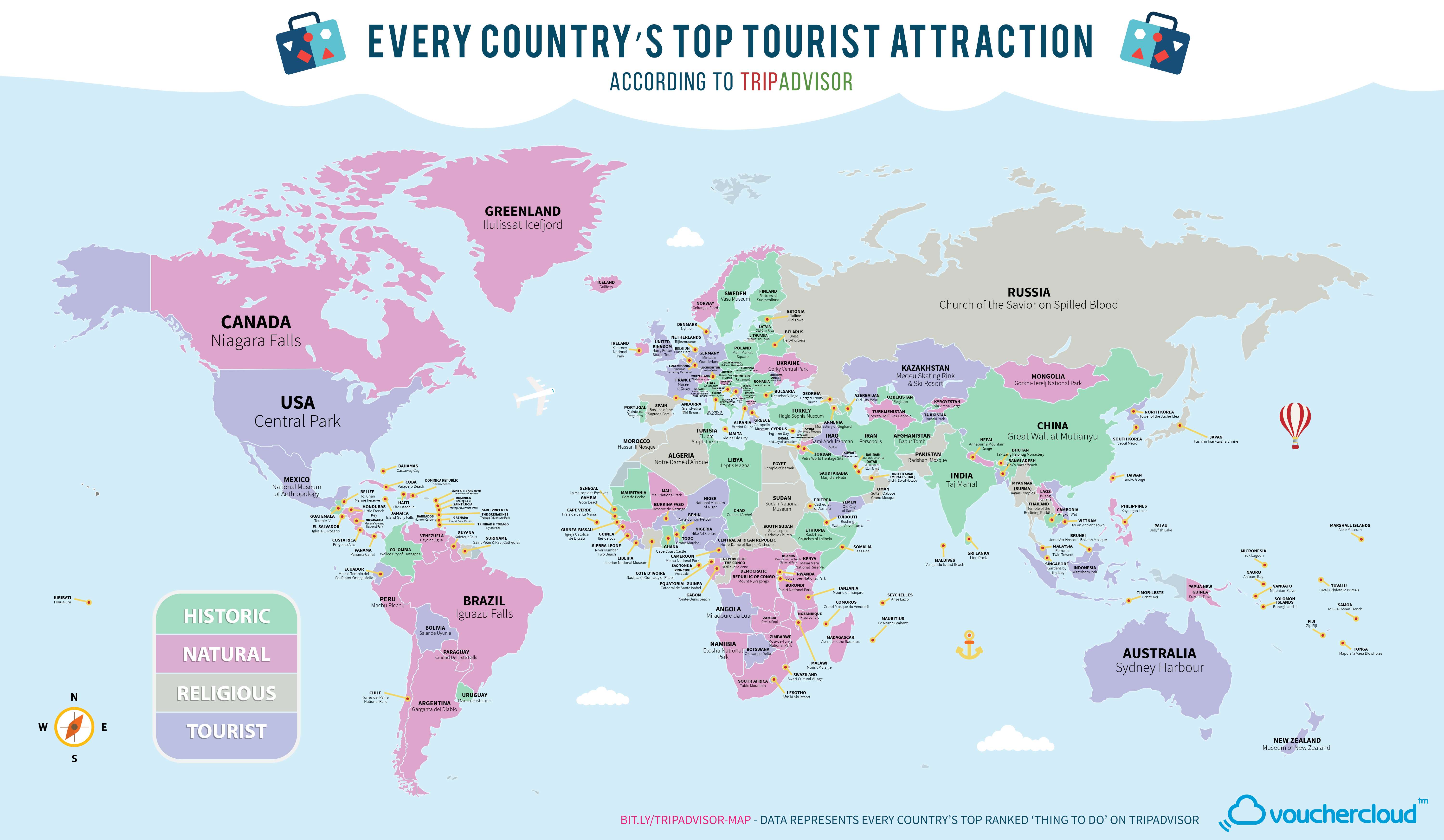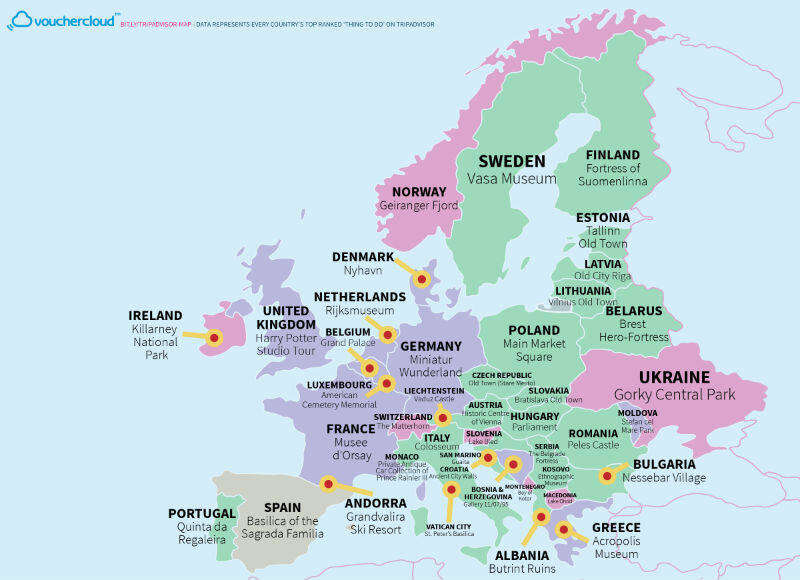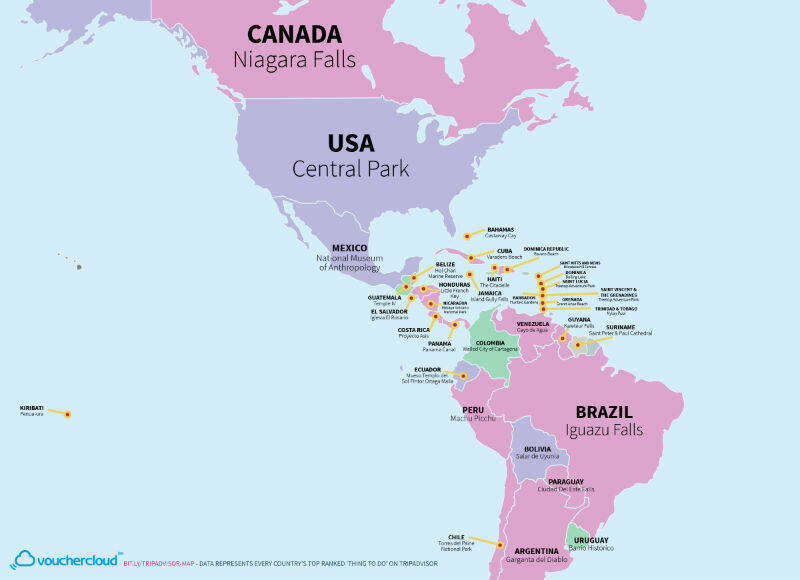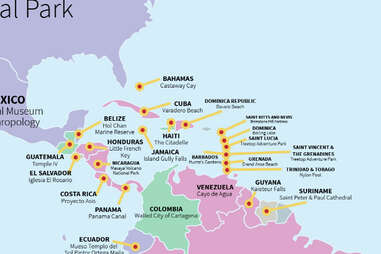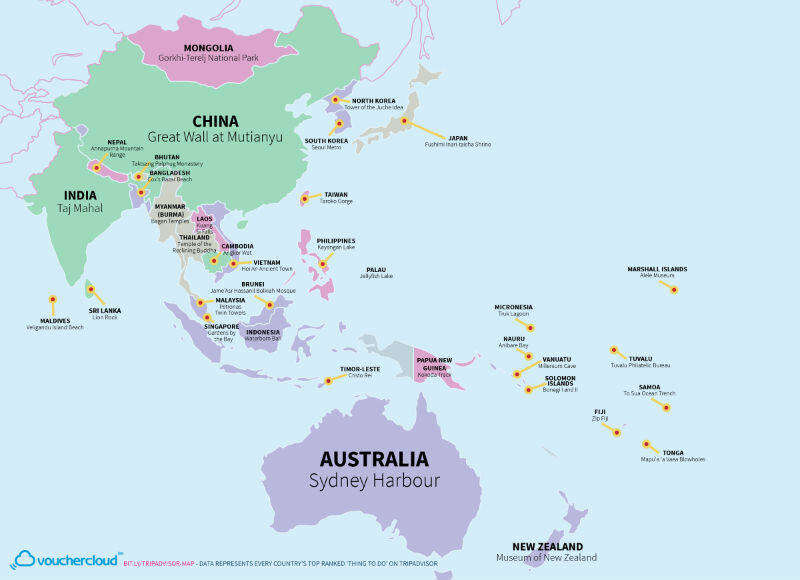 Afghanistan: Babur Tomb
Albania: Butrint Ruins
Algeria: Notre Dame d'Afrique
Andorra: Grandvalira Ski Resort
Angola: Miradouro da Lua
Antigua and Barbuda: Stringray City
Argentina: Garganta del Diablo
Armenia: Monastery of Geghard
Australia: Sydney Harbour
Austria: Historic Centre of Vienna
Azerbaijan: Old City Baku
Bahamas: Castaway Cay
Bahrain: Al-Fatih Mosque
Bangladesh: Cox's Bazar Beach
Barbados: Hunte's Gardens
Belarus: Brest Hero-Fortress
Belgium: Grand Place
Belize: Hol Chan Marine Reserve
Benin: Porte du non Retour
Bhutan: Taktsang Palphug Monastery
Bolivia: Salar de Uyuni
Bosnia and Herzegovina: Gallery 11/07/95
Botswana: Okavango Delta
Brazil: Iguazu Falls
Brunei: Jame'Asr Hassanil Bolkiah Mosque
Bulgaria: Nessebar Village
Burkina Faso: Reserve de Nazinga
Burundi: Rusizi National Park
Cambodia: Angkor Wat
Cameroon: Mefou National Park
Canada: Niagara Falls
Cape Verde: Praia de Santa Maria
Central African Republic (CAR): Notre-Dame of Bangui Cathedral
Chad: Guelta d'Archei
Chile: Torres del Paine National Park
China: Great Wall at Mutianyu
Colombia: Walled City of Cartagena
Comoros: Grand Mosque du Vendredi
Costa Rica: Proyecto Asis
Cote d'Ivoire: Basilica of Our Lady of Peace
Croatia: Ancient City Walls
Cuba: Varadero Beach
Cyprus: Fig Tree Bay
Czech Republic: Old Town (Stare Mesto)
Democratic Republic of Congo: Mount Nyiragongo
Denmark: Nyhavn
Djibouti: Rushing Waters Adventures
Dominica: Boiling Lake
Dominican Republic: Bavaro Beach
Ecuador: Mueso Templo del Sol Pintor Ortega Maila
Egypt: Temple of Karnak
El Salvador: Iglesia El Rosario
Equatorial Guinea: Catedral de Santa Isabel
Eritrea: Cathedral of Asmara
Estonia: Tallinn Old Town
Ethiopia: Rock-Hewn Churches of Lalibela
Fiji: Zip Fiji
Finland: Fortress of Suomenlinna
France: Musee d'Orsay
Gabon: Pointe-Denis beach
Gambia: Gotu Beach
Georgia: Gergeti Trinity Church
Germany: Miniatur Wunderland
Ghana: Cape Coast Castle
Greece: Acropolis Museum
Greenland: Ilulissat Icefjord
Grenada: Grand Anse Beach
Guatemala: Temple IV
GuineaIles: de Los
Guinea-BissauIgreja: Catolica de Bissau
Guyana: Kaieteur Falls
Haiti: The Citadelle
Honduras: Little French Key
Hungary: Parliament
Iceland: Gullfoss
India:Taj Mahal
Indonesia: Waterbom Bali
Iran: Persepolis
Iraq: Sami Abdulrahman Park
Ireland: Killarney National Park
Israel: Old City of Jersualem
Italy: Colosseum
Jamaica: Island Gully Falls
Japan: Fushimi Inari-taisha Shrine
Jordan: Petra World Heritage Site
Kazakhstan: Medeu Skating Rink and Ski Resort
Kenya: Masai Mara National Reserve
Kiribati: Fenua-ura
Kosovo: Ethnographic Museum
Kuwait: The Avenues
Kyrgyzstan: Ala-Archa Gorge
Laos: Kuang Si Falls
Latvia: Old City Riga
Lebanon: Temples of Baalbek
Lesotho: AfriSki Ski Resort
Liberia: Liberian National Museum
Libya: Leptis Magna
Liechtenstein: Vaduz Castle
Lithuania: Vilnius Old Town
Luxembourg: American Cemetery Memorial
Macedonia: Lake Ohrid
Madagascar: Avenue of the Baobabs
Malawi: Mount Mulanje
Malaysia: Petronas Twin Towers
Maldives: Veligandu Island Beach
Mali: Mali National Park
Malta: Mdina Old City
Marshall Islands: Alele Museum
Mauritania: Port de Peche
Mauritius: Le Morne Brabant
Mexico: National Museum of Anthropology
Micronesia: Truk Lagoon
Moldova: Stefan cel Mare Park
Monaco: Private Antique Car Collection of Prince Rainier III
Mongolia: Gorkhi-Terelj National Park
Montenegro: Bay of Kotor
Morocco: Hassan II Mosque
Mozambique: Praia do Tofo
Myanmar (Burma): Bagan Temples
Namibia: Etosha National Park
Nauru: Anibare Bay
Nepal: Annapurna Mountain Range
Netherlands: Rijksmuseum
New Zealand: Museum of New Zealand
Nicaragua: Masaya Volcano National Park
Niger: National Museum of Niger
Nigeria: Nike Art Centre
North Korea: Tower of the Juche Idea
Norway: Geiranger Fjord
Oman: Sultan Qaboos Grand Mosque
Pakistan: Badshahi Mosque
Palau: Jellyfish Lake
Panama: Panama Canal
Papua New Guinea: Kokoda Track
Paraguay: Ciudad Del Este Falls
Peru: Machu Picchu
Philippines: Kayangan Lake
Poland: Main Market Square
Portugal: Quinta da Regaleira
Qatar: Museum of Islamic Art
Republic of the Congo: Basilique St. Anne
Romania: Peles Castle
Russia: Church of the Savior on Spilled Blood
Rwanda: Volcanoes National Park
Saint Kitts and Nevis: Brimstone Hill Fortress
Saint Lucia: Treetop Adventure Park
Saint Vincent and the Grenadines: Botanical Gardens
Samoa: To Sua Ocean Trench
San Marino: Guaita
Sao Tome and Principe: Praia Jale
Saudi Arabia: Masjid an-Nabi
Senegal: La Maison des Esclaves
Serbia: The Belgrade Fortress
Seychelles: Anse Lazio
Sierra Leone: River Number Two Beach
Singapore: Gardens by the Bay
Slovakia: Bratislava Old Town
Slovenia: Lake Bled
Solomon Islands: Bonegi I and II
Somalia: Laas Geel
South Africa: Table Mountain
South Korea: Seoul Metro
South Sudan: St. Joseph's Catholic Church
Spain: Basilica of the Sagrada Familia
Sri Lanka: Lion Rock
Sudan: Sudan National Museum
Suriname: Saint Peter and Paul Cathedral
Swaziland: Swazi Cultural Village
Sweden: Vasa Museum
Switzerland: The Matterhorn
Syria: Umayyad Mosque
Taiwan: Taroko Gorge
Tajikistan: Rudaki Park
Tanzania: Mount Kilimanjaro
Thailand: Temple of the Reclining Buddha
Timor-Leste: Cristo Rei
Togo: Grand Marche
Tonga: Mapu'a 'a Vaea Blowholes
Trinidad and Tobago: Nylon Pool
Tunisia: El Jem Amphitheatre
Turkey: Hagia Sophia Museum
Turkmenistan: "Door to Hell" Gas Deposit
Tuvalu: Tuvalu Philatelic Bureau
Uganda: Bwindi Impenetrable National Park
Ukraine: Gorky Central Park
United Arab Emirates: Sheikh Zayed Mosque
United Kingdom: Harry Potter Studio Tour
United States of America: Central Park
Uruguay: Barrio Historico
Uzbekistan: Registan
Vanuatu: Millenium Cave
Vatican City (Holy See): St. Peter's Basilica
Venezuela: Cayo de Agua
Vietnam: Hoi An Ancient Town
Yemen: Old City of Sanaa
Zambia: Devil's Pool
Zimbabwe: Mosi-oa-Tunya National Park
Sign up here for our daily Thrillist email, and get your fix of the best in food/drink/fun.
Sam Blum is a News Staff Writer for Thrillist. He's also a martial arts and music nerd who appreciates a fine sandwich and cute dogs. Find his clips in The Guardian, Rolling Stone, The A.V. Club and Vice. He's on Twitter @Blumnessmonster.