Everyone Gets a Free Smoothie Today Just for Wearing Sandals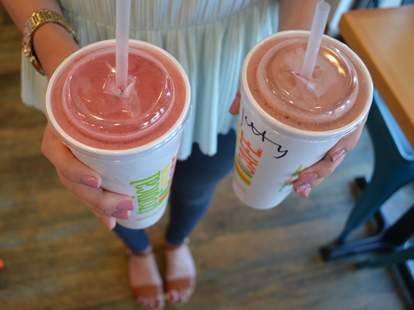 Courtesy of Tropical Smoothie Cafe
Flip flops and food aren't the most natural partners. However, this is one of the rare instances where you won't feel a little weird about the combination.
Tropical Smoothie Cafe has hosted a National Flip Flop Day even year since 2007, and the 2018 installment lands on Friday, June 15. Drop into one of its more than 600 locations in 44 states and you will get a free Sunshine Smoothie anytime between 2pm and 7pm. The Sunshine Smoothie is a combination of mangos, bananas, oranges, and pineapple. That's so intensely tropical it's possible you'll suddenly find yourself in a cabana shirt making reservations at the nearest Margaritaville.
All you have to do to earn that free smoothie is wear sandals. That's it. Show your toes, and you're all set. It's all part of the Cafe's effort to raise $1 million for Camp Sunshine, a cost-free, year-round camp for kids with life-threatening illnesses and their families. The smoothies are 100% free, but customers are encouraged to contribute a little to Camp Sunshine to help the smoothie shop meet its goal.
"These families have had to endure some of life's most challenging circumstances, and we've seen how much Camp Sunshine means to them," Mike Rotondo, CEO of Tropical Smoothie Cafe, said in a statement. "Some days, you have to create your own sunshine, and that's the beauty of Camp Sunshine, it creates sunshine for these families."
That's an easy path to feeling good about yourself both because you're helping a family in need and because you just landed a free smoothie. The summer is off to a good start.
Sign up here for our daily Thrillist email and subscribe here for our YouTube channel to get your fix of the best in food/drink/fun.

Dustin Nelson is a News Writer with Thrillist. He holds a Guinness World Record but has never met the fingernail lady. Follow him @dlukenelson.