Truff Pairs with Gopuff to Debut Hot Sauce-Smothered Pizzas
These new pizzas feature a drizzle of Black Truffle Hot Sauce.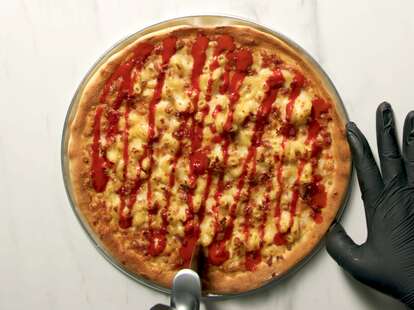 In August, Taco Bell teamed up with Truff, the brand behind that truffle-infused hot sauce all over Instagram, to give its Loaded Nacho Fries an added kick. It was a collaboration that quickly had us wondering what else could we smother in that indulgent sauce. Now, we've got our answer.
Truff is bringing us yet another way to enjoy its sauce by teaming up with fresh, made-to-order food delivery app Gopuff for three hot sauce-drizzled pizzas.
"Truff's goal has always been to elevate everyday dining experiences and with Gopuff we can expand that pursuit to the on-demand food delivery category," Co-Founder and Co-CEO Nick Ajluni said in a press release. "Our debut pizza line immediately heightens the senses with the vibrant experience of real black truffles. With this partnership, we are excited to elevate the conventions of delivery while offering consumers a new way to enjoy Truff."
For co-founders Ajluni and Nick Guillen pizza was a natural next step for the brand. In fact, according to Guillen, it's been in the brand's DNA.
"Pizza from the beginning, since we started Truff, has always been an amazing vehicle," Guillen told Thrillist ahead of the launch, with Ajluni echoing the sentiment, "we just always knew, it's gotta happen."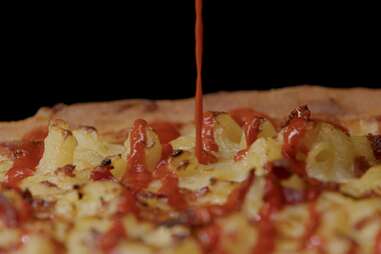 Here's the full Truff x Gopuff Pizza lineup:
Ricotta and Mushroom Pizza: an aromatic white pizza topped with ricotta, mushrooms, and doused in Truff's Black Truffle Hot Sauce
Bacon, Mac, and Cheese Pizza: a crisp bacon and cheesy macaroni topped pie with Truff's Black Truffle Hot Sauce
Gluten-Free Sausage: vine-ripened tomato sauce, mozzarella, sausage, and parmesan cheese on a gluten-free crust drizzled with Truff's Black Truffle Hot Sauce
"This isn't like any easy-bake-oven type of product. This is very high on the culinary scale," Guillen added. "[The Gopuff team] has put in a lot of time and work to make this a great success."
Megan Schaltegger is a staff writer at Thrillist.