Truly Hard Seltzer Is Dropping 4 Boozy Lemonade Flavors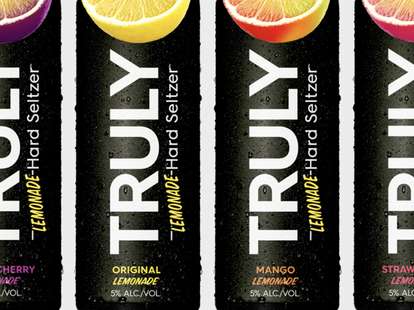 Courtesy of Truly
Courtesy of Truly
I don't really discriminate when it comes to boozy beverages but, like much of America, spiked seltzer holds a special place in my heart -- and fridge. But a girl can only consume so much Black Cherry before she needs a change. Luckily, Truly is giving us exactly that with the debut of its new seltzer-lemonade hybrid.
The hard seltzer maker is expanding beyond boozy bubbles with the launch of its Original Lemonade, Black Cherry Lemonade, Mango Lemonade, and Strawberry Lemonade flavors (FYI, they're hitting stores now). But don't fear, health resolution freaks, the company hasn't changed the nutrition stats. Each can still clocks in at 100 calories with 1g of sugar. All four flavors are 5% ABV.
"We took the feedback from drinkers and created Truly Lemonade for those looking for more flavor than traditional hard seltzer yet not willing to compromise on calories, carbs or sugar," Senior Manager of Product Development Casey O'Neill said in a statement on Tuesday. "It really is the best of both worlds and brings together flavor and refreshment in a way that nothing else in the category does right now. Drinkers will have to taste it to believe it, but we're confident they'll love Truly Lemonade as much as we do."
But Lemonade isn't the only change happening over at Truly. According to a press release, the brand "optimized" its recipe earlier this year to create more refreshing flavors. It's not just all talk, either. The company tweaked all 13 flavors for a crisper edge. Don't get me wrong, I'm not abandoning the classics. I'm just adding a little variety into my fridge stock.
Sign up here for our daily Thrillist email and subscribe here for our YouTube channel to get your fix of the best in food/drink/fun.
Megan Schaltegger is a staff writer at Thrillist. Follow her @MegSchaltegger.