Truly Is Launching Its Own Flavored Vodka
The hard seltzer maker is branching out into spirits.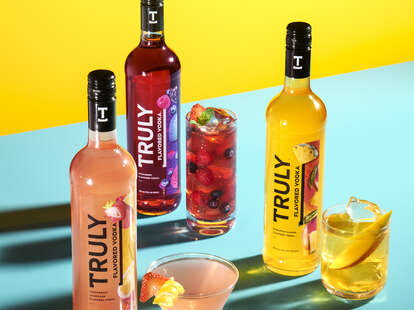 If you like to to indulge in some adult beverages from time to time—be it your post-work happy hour or Saturday afternoon rooftop hop—you've likely sipped a Truly Hard Seltzer. But since conquering the malt beverage market, the brand is looking to experiment beyond 5% ABV slim cans with its first foray into hard liquor.
Earlier this week, Truly announced the release of its first-ever flavored vodka in collaboration with seasoned alcohol producer Beam Suntory. The bottles will be landing on liquor shelves nationwide in three flavors—Strawberry Lemonade, Wild Berry, and Pineapple Mango—later this month.
As part of an intended long-term partnership with Boston Beer Company (the parent company behind Truly), Beam Suntory will put its expertise to good use by distilling, distributing, selling, and marketing new products.
"As we enter an entirely new category for the brand, we're thrilled to be working in tandem with the pioneers in premium spirits at Beam Suntory to bring our latest innovation to life," Boston Beer Company CMO Lesya Lysyj said in a statement to Thrillist. "With the launch of Truly Flavored Vodka we want to defy what consumers think vodka can be and create a product that's flavorful, colorful, and endlessly interesting."
Described as a "bold take on a classic spirit," Truly's triple-distilled vodka clocks in at just under 100 calories per serving. The 60-proof bottles are available in 50 mL, 375 mL, 750 mL, and 1 L.