A Giant, Inflatable Balloon of a Baby Trump Took Flight in London Today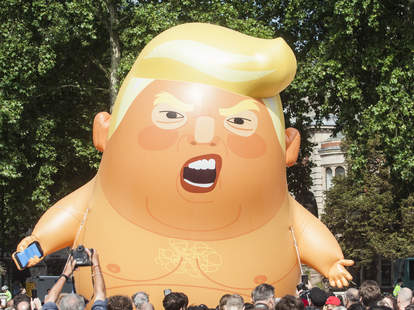 Barcroft Media/Getty Images
To greet Donald Trump on his current diplomatic trip to the UK, residents of London have set flight to a giant, diaper-wearing, balloon effigy of the president. The baby blimp was unleashed outside of Parliament Square in Central London on Friday morning, holding a cell phone and sporting a snarling, pudgy face.
The floating, diaper-president balloon was approved by London Mayor Sadiq Khan after an activist group lobbied the city for permission, writing in classic #resistance fashion on a crowdsourcing page: "Donald Trump is a big, angry baby with a fragile ego and tiny hands." The group obviously tapped into a high-demand market, having garnered $40,000 for their efforts to bring a big, angry orange baby to one the world's premier capitals. 
The anti-trump protests drew a remarkable turnout, with around 250,000 people estimated to have marched under the orange baby's scornful eye. 
While the balloon's lifespan outside parliament only lasted two hours, images of baby Trump on Twitter will likely burn into your corneas and sting your nostrils. Here are some images from the scene -- for a cackle or two:
The balloon has tested Trump's notoriously fragile ego. The president told the Sun tabloid that it's changed his opinion of London: "I used to love London as a city," Trump told the paper. "I haven't been there in a long time. But when they make you feel unwelcome, why would I stay there?"
And the balloon might cast a shadow over the president for a while to come, as organizers claim they've raised enough money to take the baby on a "world tour."
"All the details are still TBC but once little Donald has been run out of Britain in July, we will start to put together an itinerary -- so if your community is unlucky enough to be expecting a visit from the orange sex pest, please get in touch after the 14th," the group's page reads.
The political soap opera is getting even sillier, folks.
Sign up here for our daily Thrillist email and subscribe here for our YouTube channel to get your fix of the best in food/drink/fun.
 
Sam Blum is a News Staff Writer for Thrillist. He's also a martial arts and music nerd who appreciates a fine sandwich and cute dogs. Find his clips in The Guardian, Rolling Stone, The A.V. Club and Esquire. He's on Twitter @Blumnessmonster.