Trump Actually Eats His Huge Big Mac Order Without the Buns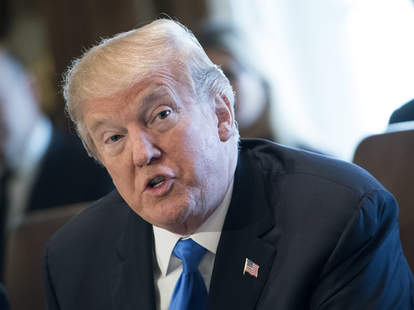 credit: Getty Images/Getty Images News/Pool
Even despite his affinity for ketchup-drenched steaksburnt to a crisp, President Donald Trump appears to be taking cues from health-conscious yoga nerds. Kind of. Thanks to a new book from one of Trump's former campaign managers, Corey Lewandowski, we now know the presumptive president-elect opted to eat a gut-blasting McDonald's order while on the campaign trail, consisting of two Big Macs, two Filet-O-Fish sandwiches, and a chocolate milkshake.
But according to Lewandowski, the president's gluttonous go-to order was actually kind of nutritious and not as bad as it sounds, because Trump eats his burgers without the buns. It's basically the paleo diet as embodied through our hyper-tweeting and cheeseburger-loving president. 
Speaking with CNN, Lewandowski batted away the possibility that Trump's preference for fast food burgers and drinkable chocolate was an unhealthy lifestyle choice for a 71-year-old running for the presidency.
Asked about Trump's campaign trail fast food eating habits (2 Big Macs, 2 Filet of Fish, chocolate milkshake) on @NewDay, Corey Lewandowski says: "Well, he never ate the bread, which is the important part ... Was I concerned? No" https://t.co/YM7G41NAA3

— Jennifer Hansler (@jmhansler) December 7, 2017
For Lewandowski, the absence of a bun means the ground beef and fried fish fillets inhaled by Trump on the campaign trail provided pure and unfettered energy, and perhaps enough juju to tip the scales for the biggest political upset in American history. As Lewandowski explained, he was anything but worried about Trump's diet during their time together.
If only the rest of our digestive systems (and perhaps hearts) were made of the cold, hardened steel that coats Trump's.
[h/t NY Mag]
Sign up here for our daily Thrillist email and subscribe here for our YouTube channel to get your fix of the best in food/drink/fun.
 
Sam Blum is a News Staff Writer for Thrillist. He's also a martial arts and music nerd who appreciates a fine sandwich and cute dogs. Find his clips in The Guardian, Rolling Stone, The A.V. Club and Esquire. He's on Twitter @Blumnessmonster.