Donald Trump 'Ordered' Rex Tillerson to Eat a Caesar Salad, Like an Angry Dad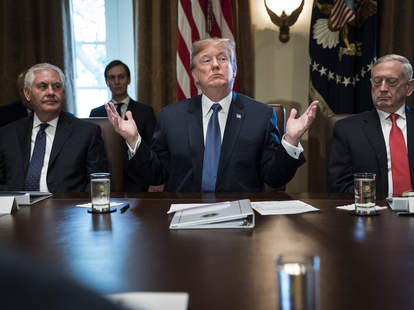 The Washington Post/Getty Images
President Trump indulged his fondness for firing subordinates on Tuesday when he unceremoniously canned Secretary of State Rex Tillerson in the most Trump way possible, via a tweet. 
The duo's relationship -- which was turbulent, like many in the West Wing -- is perhaps best exemplified by a very contentious caesar salad. The Wall Street Journalreports that while on a diplomatic trip to China last November, Trump flexed his presidential muscle by ordering Tillerson to eat a salad that no one else at a meeting wanted. 
Here's how the incident played out, according to the Journal: 
"In a private room in China's Great Hall of the People in November, Secretary of State Rex Tillerson sat with President Donald Trump and other U.S. officials as their hosts delivered plates of wilted Caesar salad."
Mr. Trump, in the midst of a five-country tour of Asia, grew concerned the untouched greens would offend the Chinese, according to people familiar with the matter. So he ordered Mr. Tillerson to start. "Rex," he said, "eat the salad."
Since Tillerson, the former chief of ExxonMobile, probably hadn't been ordered to eat a salad since he was playing little league, he opted to act like a grown man and declined the president's command.
It's plausible then Secretary Tillerson had grown used to being served vegetables that Trump refused. After all, the president opted for American-style cheeseburgers while in Japan during the same tour, and has a reputation for enjoying steak with ketchup. 
Tillerson has passed his duties on to former CIA Director Mike Pompeo, who in addition to addressing the myriad diplomatic issues facing the United States will likely have to eat whatever salads Trump tells him to. Godspeed.
Sign up here for our daily Thrillist email and subscribe here for our YouTube channel to get your fix of the best in food/drink/fun.
 
Sam Blum is a News Staff Writer for Thrillist. He's also a martial arts and music nerd who appreciates a fine sandwich and cute dogs. Find his clips in The Guardian, Rolling Stone, The A.V. Club and Esquire. He's on Twitter @Blumnessmonster.