This Site Matches Pet Sitters With Beautiful Homes All Over the World
There are few things better in life than a) travelling the world and b) cute animals. Those two things may seem unrelated, but they don't have to be, thanks to Trusted Housesitters -- a handy site that matches pet-owning homeowners trying trying to score a vacation with top-notch, vetted pet sitters looking for a free place to crash during their own travels.
Eat your heart out, Airbnb.
Trusted Housesitters
The site actually launched back in 2010, and it's a dream for both people looking to see the world on the cheap and pet owners who'd prefer not to kennel their furry loved ones when they go on vacation. It already boasts thousands of members in over 140 countries, which means the chances are good you'll be able to find a place to crash anywhere on your bucket list, or a quality caretaker when it's time to skip town.
And luckily, signing up is incredibly easy, and it won't cost you anything, apart from the $10 monthly membership fee.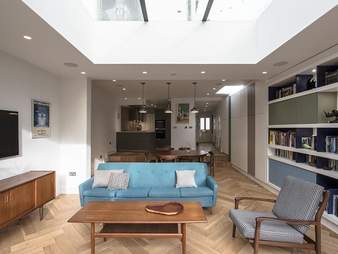 TrustedHousesitters
To participate on either end, you'll need to become an official member. To get the keys to the best homes (and the pets inside, of course), you'll first need to rack up a series of good ratings, but that shouldn't be too tough as long as you can pencil in a few local house-/pet-sitting stints the first few times.
Once you earn your stripes as a 5-star sitter, you'll be more likely to be picked by the most desirable sittees, and score access to some seriously kickass properties from oceanfront spreads in Australia and sprawling London flats, to private villas in the Spanish countryside and 5-bedroom homes in North Carolina. Since you won't be paying for your lodgings, it's one hell of a cheap, convenient, and potentially luxurious way to see the world, as long as you're down to tend to whatever furry/shelled/scaly/feathered creature is in need of attention. 
For pet owners, it's also an affordable (and arguably more humane) option, when compared to the alternative: ditching an animal at a kennel for an extended stay, where they may rack up a hefty bill and feel anxious about their unfamiliar surroundings.
There are also a number of listings seeking more long-term arrangements, in case you're on the lookout for a way to relocate or test out a new city for a while. And perhaps the best perk of all this -- apart from all the animal companionship -- is traveling the world and saving a bundle. To scope out the full selection of homes (and to sign up to join), head to TrustedHousesitters and peruse its very informative FAQ section. 
h/tOMGFacts
Sign up here for our daily Thrillist email and subscribe here for our YouTube channel to get your fix of the best in food/drink/fun.