The TSA Failed the Majority of Recent Undercover Security Tests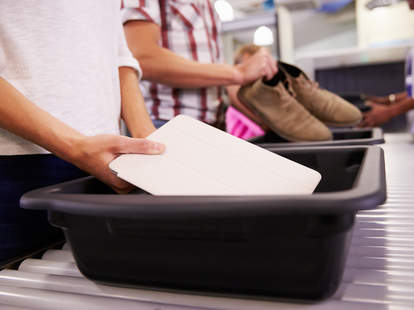 Every traveler is familiar with the process of dumping out your bag and disrobing a little for the Transportation Security Administration (TSA) because you want to visit Grandma. That process might not be all that effective according to a report from ABC News. A series of undercover tests at airport security checkpoints conducted by the Department of Homeland Security (DHS) show "screeners, their equipment, or their procedures" failed tests more than half the time. 
These tests send people through security with illicit materials to see if they get caught. What those officials were carrying through hasn't been disclosed, but in previous tests, those items included guns, explosive materials, and fake explosive devices.
This report comes just two years after a similar series of tests were conducted with embarrassing results. At that time, TSA failed 95% of tests. If you're not familiar with numbers, that's not good. That's very not good. 
The new report shows improvement. Exact numbers were not given to ABC, but the failure rate was said to be "in the ballpark" of 80%. Members of the House Committee on Homeland Security called the TSA's failure rate "disturbing."
The study's findings are classified, but the report says eight recommendations have been made to right the ship.
The TSA said in a statement it "concurs with the DHS OIG findings and is committed to aggressively implementing the recommendations." Those recommendations aren't public, but in a public hearing Wednesday, members pushed for more widespread implementation of scanner equipment that provides 3D imaging of bags. It's currently being tested in two airports, according to ABC.
That kind of failure rate is frustrating because most changes to the process make flying more complicated for everyone who hasn't signed up for PreCheck. If those changes don't work, then it feels like each new frustration is needlessly complicating your travel. No doubt, saying drivers licenses from many states aren't good enough to fly anymore will fix everything.
[h/t ABC News]
Sign up here for our daily Thrillist email, and get your fix of the best in food/drink/fun.
Dustin Nelson is a News Writer with Thrillist. He holds a Guinness World Record but has never met the fingernail lady. Follow him @dlukenelson.