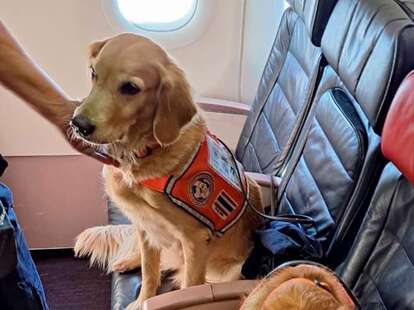 Courtesy of Turkish Airlines
Courtesy of Turkish Airlines
Typically larger dogs traveling on an airplane are required to fly in the plane's cargo hold, but some dogs traveling on Turkish Airlines recently received some serious VIP treatment—with very good reason.
Turkish Airlines has been treating rescue dogs assisting with earthquake recovery efforts in Turkey upgrades to cabin (and in some cases, business-class) seating for their flights back to their home countries, the airline confirmed to Thrillist.
Late last month, Twitter users first began spotting rescue dogs flying in the cabin and were crediting Turkish Airlines for their treatment of the VIP pups, which are trained to rescue people from disaster areas.
In a statement provided to Thrillist, the airline said this treatment was "the least we could to do show our appreciation for these heroic dogs' sincere and heroic efforts."
"As we have been experiencing an extraordinary period within our evacuation operations due to earthquakes centered in our eastern regions and affected all our country and nation, we fly our heroes, the rescue teams along with their dogs, which are let to sit in cabin (in business class as well) for this period," the airline said.
Last month, areas of both Turkey and Syria were devastated by a 7.8-magnitude earthquake, a natural disaster that has claimed more than 50,000 lives and prompted a three-month state of national emergency. Turkish Airlines, the national airline of Turkey, has been assisting with aid efforts and, as of a February 20 news release, it had transported 238,112 search and rescue personnel on aid flights, in addition to evacuating 230,980 impacted individuals, and carrying more than 15,000 tons of aid material to impacted areas.