Starbucks Is Making Fancy 'Tuxedo' Drinks to Celebrate the New Year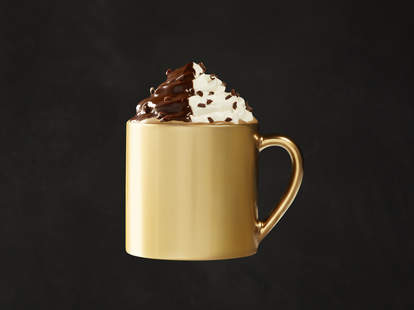 With less than a week left of 2016 (yes, the nightmare's almost over!), there's a good chance you're scrambling to figure out last-minute plans to ring in the new -- and, hopefully, better -- new year. And while you probably associate the occasion with slurping numerous glasses of cheap "champagne," Starbucks is offering a new way to celebrate all week: fancy "tuxedo" drinks. 
The trio of new beverages is called the Tuxedo Collection, and according to Starbucks, they feature "silky swirls" of dark chocolate and white chocolate and are designed to look spiffy, you know, like a tuxedo. All three drinks -- the Tuxedo Mocha, the Tuxedo Hot Chocolate, and the Tuxedo Frappuccino -- arrive at Starbucks locations nationwide on Monday, December 26th, and are available through New Year's Day.
The coffee giant's legion of baristas craft the Tuxedo Mocha by pouring hot espresso over mocha sauce and white chocolate mocha sauce, then adding steamed milk to create a "silky swirl of dark and white chocolatey goodness." After that, the drink is topped with whipped cream and mocha drizzle, but only over half the whipped cream to create a black and white tuxedo effect. It's finished with a sprinkle of dark chocolate curls, you know, to make it even fancier.
As for the Tuxedo Hot Chocolate, it's the exact same recipe, minus the espresso. Similarly, the Tuxedo Mocha Frappuccino uses all the same elements, but blends the drink together with Starbucks' Frappuccino roast coffee, cold milk, and ice. All the toppings are the same, too.
Courtesy of Starbucks
Basically, if you love sweet and chocolatey espresso drinks, it looks like you've got a new go-to beverage to help burn up all those $5 Starbucks gift cards you got over the holidays.
Sign up here for our daily Thrillist email, and get your fix of the best in food/drink/fun.
Tony Merevick is Cities News Editor at Thrillist and might just have to try one of these things. Send news tips to news@thrillist.com and follow him on Twitter @tonymerevick.