Twinkies Has a New Cereal That Looks Just Like a Bowl of Tiny Twinkies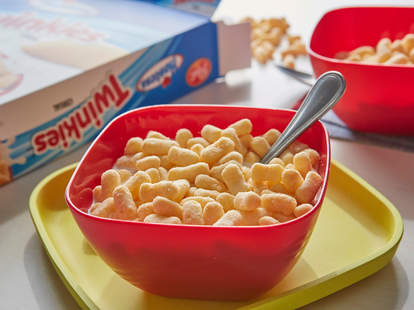 Twinkies are a special treat and a spongey, sorta cylindrical piece of Americana. Unraveling the plastic packaging signals to your body that a delicious snack, one that may never actually expire, is happening. That yellow cake stuffed with creamy whipped filling was enough to make people go nuts when Hostess first filed for bankruptcy in 2012.
Thankfully, despite all the ugliness of business, Twinkies were saved. And now, you can officially eat Twinkies for breakfast without any judgment, thanks to the introduction of Twinkies cereal. OK, there might be some judgment, but who cares. Hostess partnered with Post to channel Twinkies into cereal form, even replicating the oblong shapes and color of the packaged cakes in bite sized cereal pieces.
"In developing a cereal version of the iconic Twinkies, our top priority was focused on delivering the great Twinkies flavor in each bite," Josh Jans, brand manager of cereal partnerships at Post Consumer Brands, said in a press release. "Knowing that taste remains the No. 1 purchase driver of cereal, we conducted multiple consumer tests, and the new Twinkies Cereal delivered. We think fans will find that it not only tastes great with milk but also outside the bowl."
Not only can this crunchy Twinkies cereal be eaten as, you know, cereal, but you could also theoretically crush them and form a coating for deep fried Twinkies. Every fairground food stand in American has to start figuring out the best way to utilize Twinkies cereal ASAP.
The cereal will be available for purchase beginning at grocery stores nationwide by late December, so if you've ever wanted to have your cake-flavored cereal and eat it too, you can.
Sign up here for our daily Thrillist email and subscribe here for our YouTube channel to get your fix of the best in food/drink/fun.
Kat Thompson is a staff writer at Thrillist. Follow her on Twitter @katthompsonn.