Twinkies Ice Cream Cones Are Here to Vastly Improve the Apocalypse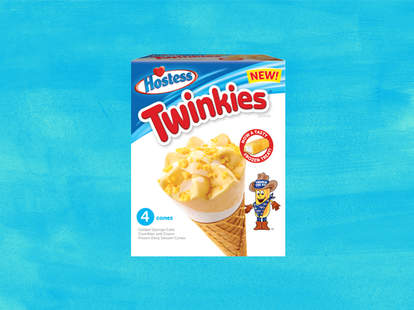 The apocalypse is saved! You might have thought the apocalypse would hold nothing for you but ashy roads, deserted cities, canned beans, and Twinkies. But Hostess is going to save the apocalypse with the launch of Twinkies ice cream and Twinkies ice cream cones. They haven't solved the mystery of refrigeration in the apocalypse, but maybe it'll be a cold apocalypse full of ice cream treats.
Hostess has put Twinkies in ice cream and summer is going to be better because of it. The cone is basically the classic Drumstick reinvented with a Twinkies twist and topped with "golden sponge cake crumbles."
Actually, Hostess is launching a whole line of ice cream treats made in collaboration with Nestle Dreyer's Ice Cream Company. "Over the past year we've been working closely with Hostess to perfect the recipes and pay homage to these nostalgic treats," said Nestle Dreyer's marketing manager Rachel Jaiven.
There's going to be a Hostess Cupcake Ice Cream, Sno Balls Bars, Sno Balls Ice Cream, Twinkies Cones, Twinkies Ice Cream, and a Ding Dong Sandwich, which would be an A+ burn on an elementary school playground.
Sign up here for our daily Thrillist email, and get your fix of the best in food/drink/fun.
Dustin Nelson is a News Writer with Thrillist. At age 7, he discovered the majesty of the Nutty Bar. Follow him @dlukenelson.