Twitter's CEO Is Facing Backlash After Tweeting About Chick-fil-A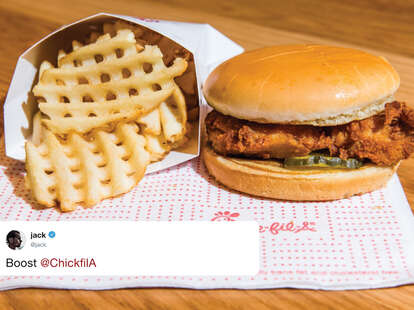 Chick-fil-A is on track to become the third largest fast-food chain in the United States and, according to at least one study, is America's favorite chicken spot. But plenty of Americans still have their objections. Just look at the backlash against Chick-fil-A's New York locations.
This is largely a reaction to comments made by Chick-fil-A CEO Dan Cathy. Back in 2012, Cathy explained that he is "very much supportive of the family... the biblical definition of the family unit." He also went on record saying, "As it relates to society in general, I think we are inviting God's judgment on our nation when we shake our fist at him and say, 'We know better than you as to what constitutes a marriage.'"
Twitter CEO Jack Dorsey just accidentally brought all of this to the fore again by tweeting about Chick-fil-A during Pride Month.
Dorsey shared a screenshot of a notification about a "boost" (10% discount) he'd gotten using the Square Cash app to pay for Chick-fil-A. (Dorsey is also the CEO of Square.) Twitter users saw this as more-or-less free advertising for a company that some see as anti-LGBT during Pride Month. And they were not pleased.
After the swift backlash, Dorsey was quick to admit wrongdoing, tweeting that critical users were "right" and tacitly agreeing that he found their "background" objectionable.
As of now, however, the original tweet is still up and neither Dorsey nor Chick-fil-A has commented further.
Sign up here for our daily Thrillist email and subscribe here for our YouTube channel to get your fix of the best in food/drink/fun.