You Can Finally Get a Verified Twitter Account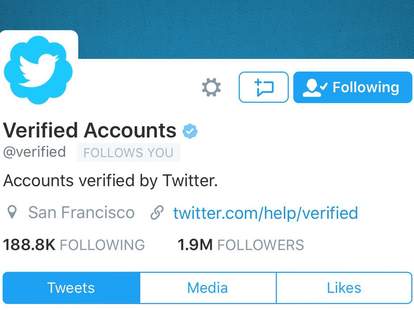 After years of keeping its coveted blue badges limited to celebrities, big brands, annoying media people, and whatever Guy Fieri is, Twitter announced Tuesday it's finally opening access to its verified accounts process to everyone. You can request to be verified on Twitter right now.
The social media company has launched a new online application process that allows anyone desiring the shiny blue checkmark to make a case for why they should receive verified status. However, the company said it will only approve requests if it is determined to be "of public interest," meaning the fancy verified club will still be pretty exclusive. In other words, you're definitely not going to receive a badge if all you do is post dick jokes all day while hiding behind the default egg avatar.
In order to apply, you must provide Twitter with a verified phone number, email address, bio, profile photo, a link to your website, and your birthday as well as making sure you account is set to public, according to request form page. Twitter has also listed several additional recommendations for users hoping to be approved.
"We want to make it even easier for people to find creators and influencers on Twitter so it makes sense for us to let people apply for verification," said Tina Bhatnagar, Twitter's vice president of User Services, in a statement. "We hope opening up this application process results in more people finding great, high-quality accounts to follow, and for these creators and influencers to connect with a broader audience."
This is all to say that you could be one of the cool kids with verified account someday soon.
h/t The Verge
Sign up here for our daily Thrillist email, and get your fix of the best in food/drink/fun.
Tony Merevick is Cities News Editor at Thrillist and has been verified on Twitter for years now. Send news tips to news@thrillist.com and follow him on Twitter @tonymerevick.