For millennia, as long as humans have walked the Earth and experienced the elements, there's been no official criteria used to determine when the weather is "hot as balls" or "colder than a witch's tit." But now, granted by the ease and sophistication of modern technology, we finally have a good sense of the exact temperatures that give these expressions real life. 
Jim Webb, a Washington, DC-based web developer and hero of the vernacular, made a tool that correlates descriptions of the weather with geo-located tweets. Mashable first noticed the project on Github, where Webb describes his hot-as-hell methodology, writing: "5,400 geolocated tweets with phrases like 'it's hot as hell' or 'it's cold as a bitch' were collected from August 2017 to January 2018, and the outdoor temperature collected for each."
The project essentially geo-tagged the locations of various users who were tweeting about the weather, and correlated their expressions -- "cold as balls" (37 degrees) and "hot as shit" (86 degrees) -- with the weather. The temperatures you're seeing below are the median temperatures ascribed to each phrase. They'll be familiar to anyone who's ever cursed the sun on a scorching day, or shivered cold and alone after an evil landlord turned off the heat. 
Recommended Video
These Tacos Are Made for Dunking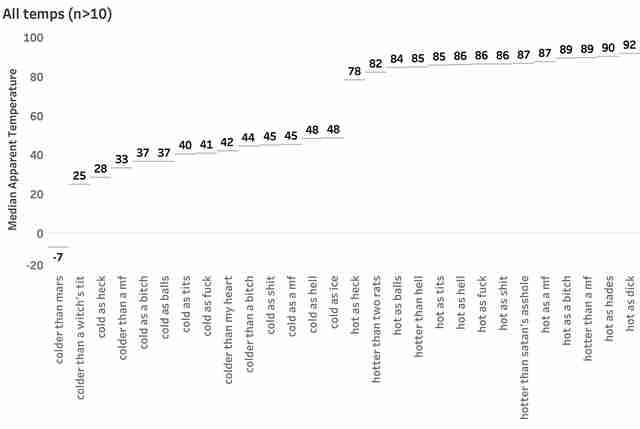 Webb really waded into the minutiae here. According to his calculations, "cold as fuck" was the most popular expression used to describe frigid temperatures, but "cold as a bitch" was used to describe the coldest weather of all, having been tweeted 43 teams at a median temperature of 37 degrees. 
"Hot as hell" was the most prevalent phrase when it came to heat, factoring in at 549 tweets to describe a median temperature of 86 degrees. "Hot as balls" was less hot, with 197 tweets describing a median temperature of 84 degrees. 
Now that we've added real, empirical heft to the all the inane ways we characterize the weather, you can be confident in your bona fides when declaring it "hot as balls" outside. Just make sure it's 84 degrees.
After all, this is real science. Don't let anyone tell you otherwise. 
h/t Mashable
Sign up here for our daily Thrillist email and subscribe here for our YouTube channel to get your fix of the best in food/drink/fun.