Cookies & Creme Twix, the Best New Flavor in Years, Is Now Available Nationwide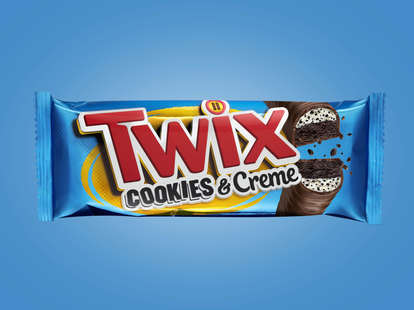 Courtesy of Mars, Inc.
Courtesy of Mars, Inc.
In a perfect world, every sweet-purveyor would offer a cookies and cream-flavored product. Of course, the world isn't perfect, but it just got a little better now that Mars has launched its brand-new Cookies & Creme Twix Nationwide.
The new candy bar is exactly what it sounds like. It's the classic flavor you love found in America's favorite cookie, ice cream, and cakes, but now in Twix form. The result is nothing short of transcendent.
"Twix Cookies & Creme pairs one of America's most popular cookie flavors with its most popular cookie bar, creating a crave-worthy treat that appeals to loyal Twix fans and welcomes new consumers to the brand," Michelle Deignan, the brand director of Twix at Mars Wrigley, said in a statement.
In addition to the nationwide rollout, Twix is also partnering with the Shoe Surgeon -- aka Dominic Ciambrone -- for customized Jordans that replicate left and right Cookies & Creme Twix.
"Our sneaker collaboration brings our new flavor to life in a fresh, unexpected way, one that celebrates the relevance of cookies & creme within sneaker culture and the left and right roots of our brand," Deignan said.
Whether you're excited about sneakers, cookies and cream-flavored Twix, or both, we can all agree this is good news. Keep the cookies and cream coming, world.
Sign up here for our daily Thrillist email and subscribe here for our YouTube channel to get your fix of the best in food/drink/fun.
Kat Thompson is a staff writer at Thrillist. Follow her on Twitter @katthompsonn.