These days, Taco Bell is busy making all sorts of crazy nachos concoctions with its wildly popular French fries. But perhaps one of the chain's biggest contributions to the nachos-eating world came in 2017, with the debut of its fried chicken chips. Dubbed Naked Chicken Chips, the nugget-nacho hybrids sadly didn't stay on the menu for long, but thanks to a new copycat product from Tyson, you'll soon be able to scoop up cheese sauce with crispy chicken chips again like nature intended. 
On Tuesday, Tyson announced the launch of new Any'tizers Chicken Chips, which look and sound just like T-Bell's Naked Chicken Chips, but in your local frozen food aisle. However, unlike the fast food version before them, Tyson's Chicken Chips come in three flavors: BBQ, ranch, and cheddar & sour cream. While Tyson describes the chips as "the ultimate crave-worthy snack," you can probably make a meal of them with the right toppings; namely, nacho cheese. They won't come with any Fire Sauce packets, so you'll have to dig a few out from the stash you've got going in your glove compartment.
Recommended Video
Art of the Meal: Chloe Rose Makes Super Mario Bros Art With Hot Sauces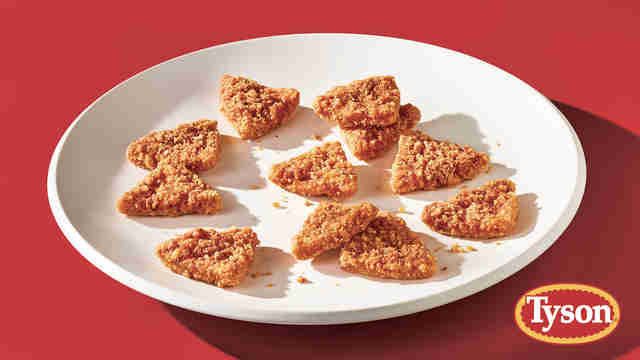 "The lines between snacking and meals are blurring," Colleen Hall, marketing director for Tyson, said in a press release. "Chicken Chips are a great option that can be enjoyed throughout the day and come in popular flavors that offer the perfect amount of crisp, inspired by chips, one of America's longstanding favorite snacks."
Taco Bell hasn't offered Naked Chicken Chips on its nationwide menu for a while now, so maybe they'll view Tyson's product launch as flattery. We reached out to a spokesperson for the fast food chain for comment.

Sign up here for our daily Thrillist email and subscribe here for our YouTube channel to get your fix of the best in food/drink/fun.