More Drama For Uber As CEO Apologizes For Yelling At His Driver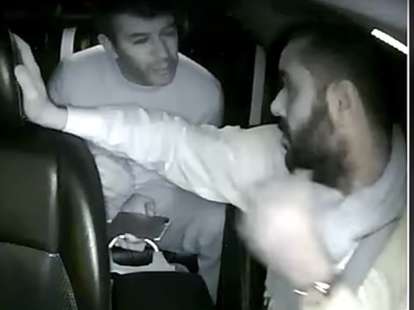 Uber CEO Travis Kalanick has issued an apology to his employees, one day after a video of him arguing with a driver over fare prices surfaced on the web. The note strikes a remorseful tone, as the 40-year-old Kalanick claims he needs to "grow up."
In the video, Kalanick's temper flares as driver Fawzi Kamel brings up the topic of declining ride fares. After a brief back-and-forth, in which Kamel discusses the lower average price of a ride and his personal struggles as a driver for the company's black car service, Uber Black, Kalanick abruptly exits the vehicle.
Upon exiting, Kalanick, the leader of a $69 billion dollar company with a total employ of 11,000 full-time workers and millions of drivers, retorts: "Some people don't like to take responsibility for their own shit. They blame everything in their life on somebody else. Good luck!"
According to Bloomberg, which was supplied the video footage by Kamel, the altercation occurred in February on Super Bowl Sunday.
In his apology, Kalanick's sounds almost embarrassed. Read his full note below:
"By now I'm sure you've seen the video where I treated an Uber driver disrespectfully. To say that I am ashamed is an extreme understatement. My job as your leader is to lead…and that starts with behaving in a way that makes us all proud. That is not what I did, and it cannot be explained away.
It's clear this video is a reflection of me—and the criticism we've received is a stark reminder that I must fundamentally change as a leader and grow up. This is the first time I've been willing to admit that I need leadership help and I intend to get it.
I want to profoundly apologize to Fawzi, as well as the driver and rider community, and to the Uber team."
The controversy is just the latest story in a quickly unwinding disaster for Uber. Since former engineer Susan Fowler published a blog post describing Uber's workplace culture of sexism and misconduct, the company has hired former attorney general Eric Holder to investigate the allegations. Couple that with the #DeleteUber campaign that grew on social media when the company botched its response to president Trump's travel ban -- and the looming financial cloud hovering over the company -- and things have probably never been worse. Uber is also being sued by Waymo -- Google's self-driving car operation -- for allegedly stealing some of its technology.
Uber was a mess last week, and its CEO is not helping at the present moment.
Sign up here for our daily Thrillist email, and get your fix of the best in food/drink/fun.
Sam Blum is a News Staff Writer for Thrillist. He's also a martial arts and music nerd who appreciates a fine sandwich and cute dogs. Find his clips in The Guardian, Rolling Stone, The A.V. Club and Vice. He's on Twitter @Blumnessmonster.