Uber Is Running an 'Unhappy Hour' With Free Rides on Sunday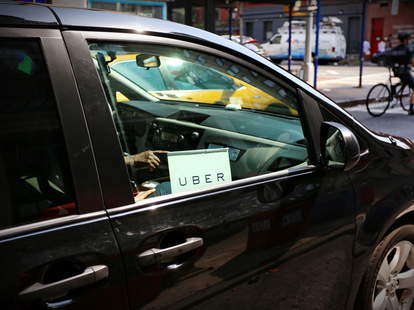 MikeDotta / Shutterstock.com
It doesn't always make sense, but having your favorite team lose a big game is deflating. It worse than, say, winning a championship and having someone offer you a Big Mac as your grand prize. It shouldn't be that big of a deal, but it's the pits. To help fans of the Super Bowl also-ran arrive home safely, Uber is offering a happy hour of sorts on Sunday. It's an "Unhappy Hour."
If your team makes you miserable during the Super Bowl on February 3, you can get home for free because of this supremely "Unhappy Hour." To get your free ride, you need to be in the city of the losing team and an Uber Rewards member. It's a free program that allows you to earn points when you ride or order food through Uber Eats. Those points can be redeemed for things like, uh, more rides and, presumably, more food.
Uber Rewards members in Los Angeles and Boston will see a code when they open the app on game day. If their team loses, they can drop the code into the payment section of the app and redeem a free ride up to $50 anytime within an hour of the end of the game.
It's a good program because it can be tough to drive with tears in your eyes.

Sign up here for our daily Thrillist email and subscribe here for our YouTube channel to get your fix of the best in food/drink/fun.