Uber Is Launching Hourly Booking So You Can Road-Trip Up to 7 Hours
Nap on the way to wherever you're going.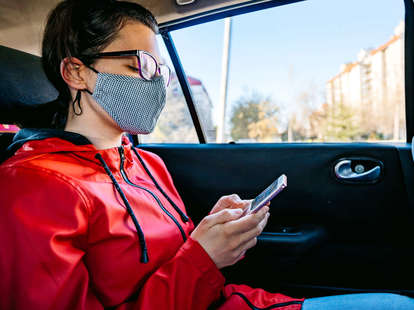 You might be itching to get out of town, but that doesn't mean you're dying to pile onto a plane or train while the coronavirus pandemic rages on. Travel in general is still questionable, but if you've gotta get from point a. to point b., Uber's latest feature might be your ticket.
The ride sharing app is launching a new hourly reservation service, so customers can road trip up to seven hours. The program will roll out in June 2 across a dozen US cities. You'll be able to request the trip similarly to as you would an on-demand ride by selecting a destination, entering in additional stops, and opting for the Uber Hourly option. You'll match with a driver per usual, get vehicle details, and be on your merry way. Rides are $50 an hour, excluding tolls, tip, and surcharges -- for example, adding a car seat.
"Building on a global pilot, we're launching Uber Hourly to provide riders a more convenient way to get things done, and to provide an additional earnings opportunity for drivers as we move forward in this 'new normal,'" director of rider operations Niraj Patel said in a statement. "When you need to run errands, head to a doctor's appointment, or grab groceries, Uber Hourly fits around your schedule flexibly for those moments if and when you prefer extra time and added peace of mind."
The new feature will be available in Atlanta, Chicago, Dallas, Houston, Miami, Orlando, Tampa Bay, Philadelphia, Phoenix, Tacoma, Seattle, and Washington, DC, but is expected to expand elsewhere as well. Like a regular ride, you won't be charged for post-trip time. So while your pickup location has to be in one of the listed cities, your drop-off location doesn't nor will you be charged for the driver's ride back.
As for its safety precautions, Uber is working hard to keep riders safe. The company is ramping up sanitation practices, requiring masks for both riders and drivers, and encouraging an open window policy for better air circulation.
Sign up here for our daily Thrillist email and subscribe here for our YouTube channel to get your fix of the best in food/drink/fun.
Megan Schaltegger is a staff writer at Thrillist.