Uber is Delivering Kitten Snuggles Today Until 3 PM
There's nothing better you could do on your lunch break than hugging and kissing adorable kittens, and if you request an Uber right now, you can do just that. In honor of National Cat Day -- seriously, there's a day for everything these days -- Uber is delivering kittens to users in more than 50 cities.
For the low, low cost of $30, you can get kittens delivered to your home or business, with all proceeds going to participating animal shelters. The price gets you 15 minutes of cute kitten whiskers, cute kitten paws, cute kitten fur, and cute kitten eyes. You get the point: a whole lot of cuteness.
It's sort of like a weird kitten dating app, because every single one of these kittens needs a lifemate. They're all up for adoption, so if you find yourself getting attached, well, you can stay attached. Unlike how online dating works.
To Uber a kitten follow these steps:
1. Type in the promotion code for your city. Check to see if your city is participating here and grab the code. 
2. Request the KITTENS option in your app.
That's it! They're in high demand, as most fluffy things are, so you may have to keep requesting. Sadly, snuggles were hard to come by in NYC.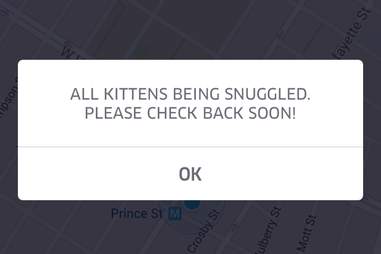 Screenshot via Uber
Sign up here for our daily Thrillist email, and get your fix of the best in food/drink/fun.
Kara King is a News Writer at Thrillist and...KITTENS!!! Send news tips to news@thrillist.com and follow her at @karatillie.