Uber and Lyft Will Drive You to the Polls for Free (or Cheap) on Election Day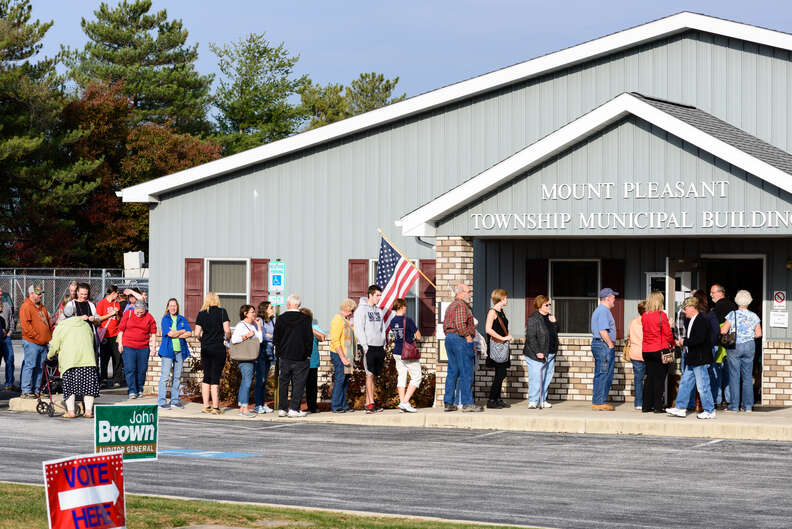 If you're a registered voter living in the United States and you didn't participate in early voting, you have no excuse not to exercise your right and make it out to the ballot box on Tuesday, November 6 for the 2018 Midterm Elections. Seriously, you don't even have to worry about getting to the polls now: Uber, Lyft, most major bike programs, and other services around the country are giving a way free or heavily discounted rides to voters on Election Day.
With every house seat in the House, a third of the Senate, dozens of gubernatorial races, and countless local elections at stake, Tuesday's election is expected to see the biggest midterm voter turnout in 50 years, according to NPR. To help make sure it is, ride hailing behemoths Uber and Lyft are each running special promotions to ensure users can quickly figure out where their polling place is located, and get there for cheap. Also, a number of citywide bike-share services will let you borrow a set of wheels for free. Here's what you need to know to make your trip to the ballot box a breeze.
How to Get a Free or Cheap Ride to the Polls With Uber and Lyft
Both major ride-hailing services are offering Election Day promotions to make it easier for people to get out and vote. Uber, which previously touted that its partners #VoteTogether and Democracy Works were sending out enough promo codes to get over 15,000 to and from the polls for free on Tuesday, has announced it is also offering $10 off a single ride to all users on Election Day.
To take advantage of the discount, you'll just need to launch the Uber app (make sure you've updated to the most recent version), tap Menu > Payment > Add Promo Code and enter the promotional code VOTE2018. This will allow you to request your ride using their special in-app polling place locater, though for the deal to be valid you'll have to select the most affordable tier option available in your city (e.g., Express Pool, Pool, or UberX, in that order). Just a heads up that you'll only be able to get $10 off your ride to the polls.
"Using our technology and resources, we can help make it easier for every Uber rider in the U.S. to get to their polling place at the push of a button," the company said in a statement. "We're also partnering with nonprofit organizations to register voters before state deadlines and provide free rides to the polls on November 6."
Lyft is handing out promo codes for 50% off your ride to your voting location on Tuesday. To get your code, you'll need to visit this page, and then plug it into your app by tapping the Promos tab. It's also important to note that the 50% off deal is only good on your ride to your polling place (and applies to a standard ride up to $5). Lyft is also taking things a bit further by providing free rides to underserved communities through nonpartisan nonprofit partners like Voto Latino, local Urban League affiliates, the National Federation of the Blind, Faith in Action, League of Women Voters, and the Student Vets of America.
How to Get a Free Bike-Share Ride to the Polls
A number of bike-share programs in cities around the country will be offering free rides all day on November 6 to encourage people to get out and vote. Motivate, which operates most of the biggest bike-share programs, is running a system-wide deal that'll allow users to redeem a free day pass. The deal will apply to New York and New Jersey's Citi Bike, Chicago's Divvy, Boston's Bluebikes, Washington, DC's Capital Bikeshare, Minneapolis's Nice Ride Minnesota, the Bay Area's Ford GoBike, Portland's BIKETOWN, and CoGo in Columbus, Ohio. To redeem the pass you'll need to download your local bike share app and enter the promo code BIKETOVOTE (except Chicago Divvy riders, who must use code VOTE18, and Portland BIKETOWN riders, who should use code BIKE2VOTE).
Also, if Lime is in your city, you'll also be able to get a free ride on one of its bikes, e-bikes, or e-scooters to and from your polling location (up to 30 minutes) when you enter code LIME2VOTE18 in the app.
All said, the high stakes of the elections and easy transportation to the polls should be more than enough to get you to vote, so please, vote. Not only do you get to have a say in how our country is governed, you also get one of those slick "I Voted" stickers to show off to your friends and colleagues -- as well as all sorts of free food all Election Day long. You can even get free pizzas delivered while you wait in line. What are you waiting for?
Sign up here for our daily Thrillist email and subscribe here for our YouTube channel to get your fix of the best in food/drink/fun.