Uber Will Ban You if You Break These New Rules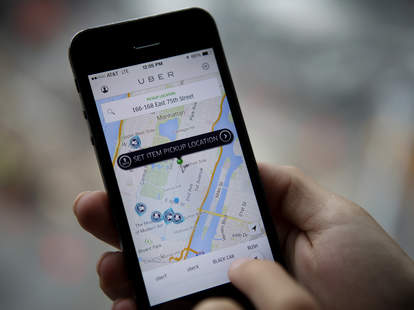 Just like taxi drivers, there's a damn good chance your next Uber driver will have plenty of horror stories involving sex, vomit, and other seedy backseat acts -- if you ask 'em. That's probably why the company released new guidelines for riders on Thursday, revealing for the first time exactly what it'll take for you to get banned from using the service.
As explained in a report by The Verge, the tech and transportation giant updated its Community Guidelines page to include a list of several specific offenses that'll get your Uber account deactivated. Up until now, the company's guidelines were somewhat vague, which could explain why some users have been suddenly banned without explanation in the past. But now, the rules are clear, or as Uber's head of North American operations Rachel Holt described them in a blog post, "in plain English." 
"Most riders show drivers the respect they deserve," Holt said. "But some don't -- whether it's leaving trash in the car, throwing up in the back seat after too much alcohol or asking a driver to break the speed limit so they can get to their appointment on time. This kind of poor behavior is not OK, which is why we will take action against passengers who are rude, abusive or violent."
As you can imagine, the rules are pretty obvious and basically fit into what's generally thought of as common decency and respect: don't have sex in the car, don't vomit in or mess up the car, don't insult or your driver, among others. But the list also outlines more serious offenses; for example, don't use Uber to commit crimes like human trafficking, sexually exploiting children, and transporting drugs.
Here's the complete set of rules, per Uber's Community Guidelines page:
Damaging drivers' or other passengers' property. For example, damaging the car, breaking or vandalizing a phone, intentionally spilling food or drink, smoking, or vomiting due to excessive alcohol consumption.
Physical contact with the driver or fellow riders. As our community guidelines make clear, you shouldn't touch or flirt with other people in the car. As a reminder, Uber has a no sex rule. That's no sexual conduct with drivers or fellow riders, no matter what. And you should never hit or otherwise hurt a driver or fellow passenger.
Use of inappropriate and abusive language or gestures. For example, asking overly personal questions, using verbal threats, and making comments or gestures that are aggressive, sexual, discriminatory, or disrespectful.
Unwanted contact with the driver or fellow passenger after the trip is over. For example, texting, calling, or visiting someone in person after a ride has been completed. Remember, in most countries you can call and text your driver directly from the Uber app without ever having to share your personal phone number. This means that your phone number stays anonymous and is never given to the driver.
Breaking the local law while using Uber. For example, bringing open containers of alcohol or drugs into the car; traveling in large groups that exceed the number of seat belts in the car; asking drivers to break local traffic laws such as speed limits; or using Uber to commit a crime, including drug and human trafficking or the sexual exploitation of children.
Along with explaining what you shouldn't do while using Uber, the company also provided a list of five things that you should do to be a "5-star rider." They're similarly self-explanatory: 
Bottom line: just don't be asshole. 
Sign up here for our daily Thrillist email, and get your fix of the best in food/drink/fun.
Tony Merevick is Cities News Editor at Thrillist and wonders how often these ban-worthy offenses actually happen. Send news tips to news@thrillist.com and follow him on Twitter @tonymerevick.