Airbnb Is Giving Out $1 Million So You Can Make a Weird Home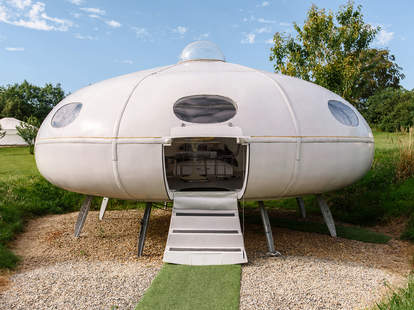 Airbnb has listed some very weird places over the last handful of years. There's that giant potato in Idaho. There was a Teenage Mutant Ninja Turtles lair in New York. A giant beagle. A six-story elephant. The options can get strange and exciting. But, in most cases, someone has to make those kinds of places available. Someone has to build a giant potato before you're able to take the most Idaho vacation Idaho has to offer.
The home-share company announced March 10 that it is launching a $1 million fund to help people create "unconventional and unusual liveable spaces" spaces to rent through the platform. Up to 10 applicants will be selected by a panel of design and style innovators including actor Billy Porter, Airbnb host Kristie Wolfe (Big Idaho Potato Hotel), and the architecture firm MVRDV.

If you've got a big idea, you can submit a proposal that will be judged based on creativity, feasibility, sustainability, and "social good." At the time of publication, terms and conditions weren't available, so it's not clear if there are stipulations about where you can list the home or how long you may be required to work with the platform when you accept the fund's money.
"The only thing better than pushing the boundaries of style is empowering others to do the same," Billy Porter said in a statement. "I'm thrilled to join Airbnb in this global search for the most outrageous, spectacular home ideas ever. I can't wait to see these concepts developed by design lovers from around the world firsthand."
Airbnb says that searches for "unusual and unique" places to stay have grown by almost 70% over the last year. Additionally, some of the most booked places aren't your aunt's spare bedroom, but "domes, RVs, treehouses, and yurts," according to the announcement. You've got until 11:59pm EST on April 15 to make a plan for that giant eggplant emoji you can live inside. Your neighbors will love it.
Sign up here for our daily Thrillist email and subscribe here for our YouTube channel to get your fix of the best in food/drink/fun.