United Flew Someone's Dog to the Wrong Country the Day After a Puppy Died on a Flight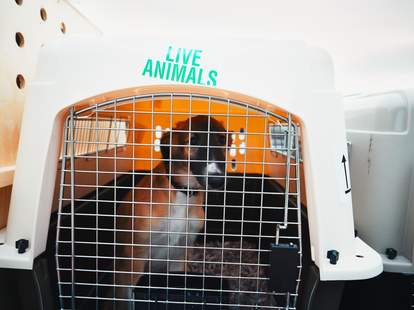 Just days after United Airlines apologized and admitted it was to blame for the death of a French bulldog puppy on one of its flights, the airline is dealing with another unfortunate dog-related snafu. Thankfully, nobody's pet perished this time.
The "nightmare" ordeal started on Tuesday, when baggage handlers mistakenly sent a family's dog to Japan instead of its intended destination in Kansas. The dog in question, a 10-year-old German Shepherd named Irgo, was accidentally swapped by airline personnel with a Great Dane bound for Narita, Japan. The hiccup occurred when both dogs were in Denver, awaiting connecting flights to their respective destinations.
Kara Swindle arrived at a United Airlines cargo facility in Kansas, only to be greeted by the Great Dane while her beloved Irgo was still en route to Japan.
"They had no idea where the dog was," Swindle told CNN. "I burst into tears instantly because this has just all been a whirlwind. They didn't know [where Irgo was] until 2:30am on Wednesday when the plane landed in Japan."
With Irgo marooned in Japan, Swindle says she was unable to give the dog its ear-infection medication for three days. However, the pup did receive medical attention while in Japan, enabling it to make the trip home, per CNN's report. United is flying Irgo to Wichita via private charter on Thursday.
United, for its part, issued a statement about its second animal screw-up in less than a week:
"An error occurred during connections in Denver for two pets sent to the wrong destinations. We have notified our customers that their pets have arrived safely and will arrange to return the pets to them as soon as possible. We apologize for this mistake and are following up with the vendor kennel where they were kept overnight to understand what happened," it said.
United, which faced a torrent of backlash last year after it allowed airport security personnel to forcibly remove a passenger from a flight to make room for an airline employee, has received fresh scrutiny for its subpar treatment of animals. The airline fares worst among major carriers when it comes to animal safety, according to recent reporting from HuffPo. Department of Transportation data shows that United transported the most animals of any American carrier in 2017 -- 138,178 -- and 18 of them died, while a further 13 were injured.
Swindler hoped the unfortunate incident might spur a positive response from airlines across the industry:
"I'm hoping that from now on they take better care of animals," she told CNN. "They kind of treat them like they are luggage. I'm hoping they can put something into policy so that this will never happen again."
Sign up here for our daily Thrillist email and subscribe here for our YouTube channel to get your fix of the best in food/drink/fun.
 
Sam Blum is a News Staff Writer for Thrillist. He's also a martial arts and music nerd who appreciates a fine sandwich and cute dogs. Find his clips in The Guardian, Rolling Stone, The A.V. Club and Esquire. He's on Twitter @Blumnessmonster.