United's New 'Basic Economy' Tickets Don't Let You Bring a Carry-on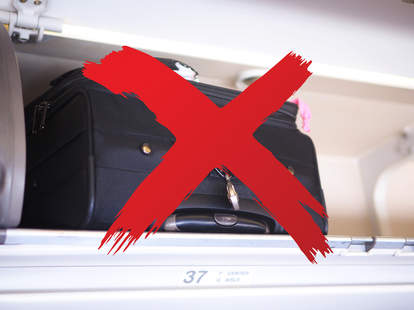 With its newest policy, United Airlines is banning carry-on luggage for certain economy class customers, which means the airline surely doesn't care about pissing off the majority of its clientele.
Announced Wednesday, United's new Basic Economy Service is a measure meant to cut costs through lower fares, albeit with the major catch of disallowing any carry-on luggage apart from small shoulder bags, backpacks or laptop bags. The Airline explains the extra strict terms of the policy on its website, writing that if you're packing a "small item that is 9 inches x 10 inches x 17 inches (22 cm x 25 cm x 43 cm) or less," you should be clear. Surely everyone will heed that fine-printed rule before rushing to the gate.
This policy will affect anyone who isn't a frequent customer of the airline, but, if you're already a "premier member, primary cardmember of a qualifying MileagePlus credit card, or a Star Alliance Gold member," you'll be allowed an actual carry-on item, the airline states.
There's more bad news for non-members and people without fancy credit cards, too: Basic Economy Customers can't choose their own seats before a flight, or upgrade to a higher ticket class.
But rest assured, as the rank-and-file clientele who book layover flights through third party sites will still have access to food, drink and WiFi when it's available.
Alas, there is a business motivation to all of this, and that ostensibly revolves around saving the airline money. This is part of a larger company strategy that's "expected to generate $4.8 billion in earnings improvement by 2020," which is money the airline needs. Nonetheless, Julia Haywood, executive vice president and chief commercial officer of United, offered a statement, which predictably talks up the company's fantastic customer service.
"By offering low fares while also offering the experience of traveling on our outstanding network, with a variety of onboard amenities and great customer service, we are giving our customers an additional travel option from what United offers today," she said.
There's no word on how ticket prices will be affected by all of this, although one would think that flying United should cost the same as buying a bagel. We can only hope.
Sign up here for our daily Thrillist email, and get your fix of the best in food/drink/fun.
Sam Blum is a News Staff Writer for Thrillist. He's also a martial arts and music nerd who appreciates a fine sandwich and cute dogs. Find his clips in The Guardian, Rolling Stone, The A.V. Club and Vice. He's on Twitter @Blumnessmonster.