United Just Announced a Big Flight Discount for Young Travelers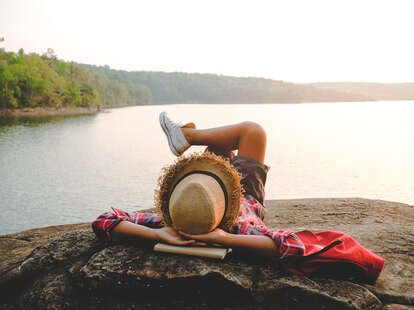 Traveling is great and offers the possibility of life-changing experiences, but it can also be expensive. Even when you find cheap flights to Hawaii or Europe, for instance. However, United Airlines is launching a new program aimed at helping young adults afford the treks they want to take.
Anyone between the ages of 18 and 22 can get up to 10% off their flight through the new promotion, which runs until the end of 2019. There are, of course, a couple of caveats. Nonetheless, it's relatively easy to redeem and could make a trip home or a trip far from home much easier to attain.
To get the 10% off, you have to sign up for United's MileagePlus member program and book your travel through the United mobile app. Ve sure to add your date of birth to your MileagePlus account, as well. The discount will only be applied to flights booked before December 31, 2019. Though, your travel dates can be after the deadline. The ticket tiers are limited to United Economy and Basic Economy. Travel to or within the US, Canada, and Mexico is eligible for the 10% discount, while other international destinations also have discounts, but may be a bit smaller.
Additionally, the first 25,000 people to redeem the offer will have their carbon emissions offset for free. Many airlines are rolling out options for travelers to do this, but it's frequently pretty expensive. Eat your heart out millennials, this one is for Gen Z.
Sign up here for our daily Thrillist email and subscribe here for our YouTube channel to get your fix of the best in food/drink/fun.